Eleven-year-old girl saves father's life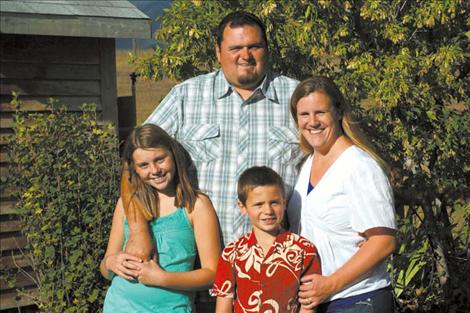 POLSON — Shawn Blixt lost consciousness in Flathead Lake Aug. 3.
He'd stopped breathing, was unresponsive, and according to his 11-year-old daughter Kyla, "he was a deeper purple than I'd ever seen."
According to Shawn, he'd just picked up his daughter and her friend from Legendary Lodge, a Christian summer camp in Seeley Lake, and was taking them knee-boarding on Flathead Lake with his son. They went to their house, got the boat, fueled it, and headed toward the lake. Nothing out of the ordinary, nothing strange, just a mid-summer afternoon on the water with family and friends.
"We put the boat in and went knee-boarding for a few hours while we waited for the moms to get off of work. It was just about 5 p.m.," he said.
After they'd had their fill of knee-boarding, the kids said they wanted to go swimming. Shawn halted the pontoon boat about 50-yards from shore in Polson Bay in front of Port Polson Inn near the KwaTaqNuk Resort and Casino.
His son, swimming without a life jacket, panicked and started to go under.
"He was scared and taking on a lot of water," Shawn said. "My little boy is a good swimmer; he just didn't have his lifejacket on."
Fearing for his son's safety, Shawn jumped in after him and inadvertently kicked the boat away from both of them in the process.
Choppy water and high winds quickly generated a large distance between the panicking boy, his father and the pontoon boat. Shawn was able to reach his son, but it quickly became apparent that situation had taken a turn for the worse.
"I didn't think both of us were going to make it," he said.
Thinking quickly, he yelled for his daughter Kyla to put her lifejacket on and swim out toward them with a second jacket for his son. Kyla made it out to them, but the boy was still panicking and they couldn't get him into the jacket.
Shawn ordered his daughter back to the boat and started to swim towards it himself. Exhausted and taking on water, the last thing he remembers is throwing his son out of the water and onto the boat.
"I got the boy on the boat," he said. "After that, nothing mattered."
Watching all of this from the safety of the boat, Kyla ordered her brother and friend to the back of the boat and jumped into the lake after her dad. She was able to lodge his arm between the pontoon and the boat, hold it there and wait for the winds and choppy water to push the boat back to shore.
Once on shore, Kyla pulled her father as far out of the water as far as she could, grabbed her father's cell phone and called 911.
Polson police detectives Juan Maso and Alan Booth were the first officers on scene.
"From his daughter's perspective, he'd lost consciousness and had stopped breathing," Booth said. "The dad was in the water face-up and the boat was crashing against him somewhat. His daughter was back on the boat and trying to wave us down."
Both officers climbed down the embankment from U.S. Highway 93 and waded into the water. Two bystanders jumped into the water as well, holding the boat out of the way while officers dragged the unconscious man out of the water and onto a nearby rock. CPR was not required, as detective Maso gave Shawn a sternum rub and he began talking incoherently.
Booth explained that a sternum rub is often performed by first responders to determine if an individual is simply unconscious or, in more serious cases, if they are unresponsive. Rubbing the sternum between the pectoral muscles with a closed fist is painful, so most unconscious individuals wake up in response.
"When he started to talk, he was yelling for his son," Booth said.
Corporal William Cleveland and an ambulance arrived shortly thereafter, and all emergency personal helped Shawn up the rocks and into the ambulance. He was transported to St. Joseph's Medical Center, treated and released. He had some bruising in his lungs and mild short-term memory loss, but is expected to make a full recovery.
Officer Cleveland was in the hospital when Shawn awoke. Soaking wet, Cleveland wouldn't leave until the doctors told him Shawn would be O.K. Even then, he spent a few hours talking with the family, making sure they were alright as well.
"When I woke up in the hospital, I was kind of surprised. I didn't think we'd both make it," Shawn recalled. "My little girl has a typ A personality, and she took control of that situation and saved my life."
Booth said Kyla did a good job of keeping it together long enough to take care of her dad and call 911.
"Without (Kyla) on that boat, I believe (Shawn) would have drowned in the lake," Booth said. When asked how she was able to perform so well under the extraordinary circumstances, Kyla said, "I have no idea. I just felt this strange calm wash over me and I prayed a lot."
Only 11 years old, Kyla has already decided she wants to become a veterinarian and is taking steps to realize that dream. After five years of playing for the Ronan Maidens, Shawn said she switched to the Polson School District to be a part of Polson's softball program. A first baseman, Kyla hopes to study veterinary medicine in Oregon with a scholarship to play softball. The fact that she's earned a 4.0 grade point average her entire life should help.
Blixt said his daughter is the apple of her daddy's eye, and that most people wouldn't believe such a story.
"It's a humbling experience," he said. "The policeman said that less than 1 percent of people in the world could have saved my life; 99 percent of people would have watched me die. My little girl is that 1 percent. She plays softball; she lives on a farm; drives tractors and trucks; her grandpa is a real cowboy; and she saw her dad drown and saved him."
"She's one in a million."
(Editor's note: This story was brought to the Valley Journal's attention by Rick Meidinger, a colleague and friend of Shawn Blixt. Meidinger died Aug. 26 of a heart attack while on his morning jog. Meidinger thought, and we at the Valley Journal agreed, that the above story was well worth telling.)