Wolf hunt ends with highest harvest yet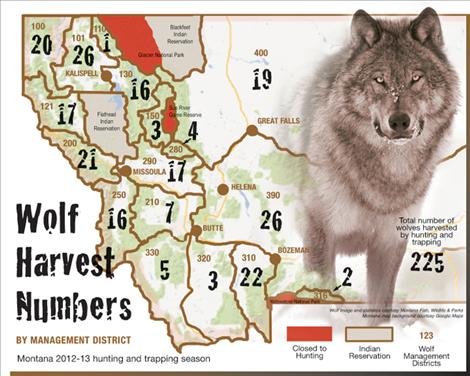 HELENA — The 2012-13 Montana wolf hunt saw a 36-percent increase in harvest numbers from last year. The 181-day season closed with a total of 225 wolves taken by hunters and trappers — the largest harvest so far.
According to a press release, 128 wolves were taken by hunters and 97 by trappers. An additional 104 wolves were harvested by the United States Fish and Wildlife Service in 70 different incidences.
Montana Fish, Wildlife and Parks communication and education spokesman Ron Aasheim said of the wolves taken by the FWS, the vast majority were preying on livestock. In Idaho, Aasheim said, most wolves are in the backcountry and away from people, landowners and livestock, resulting in fewer confrontations.
"In Montana, we have wolves that are in places that are more accessible, and they're more inclined to get in trouble with landowners," he said.
According to the FWP wolf management plan, "The focus will be on ensuring that Montana's conservation and management program keeps the wolf off the federal endangered species list while pursuing a wolf population level below current numbers to manage impacts on game populations and livestock."
Whether or not the harvest was sufficient enough to maintain a healthy wolf population by bringing wolf numbers back within reasonable parameters remains to be seen.
"We don't know yet," Aasheim said. "Until we know the minimum counts, it's pretty early."
FWP wildlife managers and biologists have estimated in the past that a harvest of 400 would be required to bring the wolf population below the desired number of 400.
FWP will announce a final minimum wolf population count in the weeks to come, but even with the final tally, Aasheim said the wolf population is difficult to estimate.
"That's one of the most difficult things to predict," he said.
FWP creates estimated minimum population counts based on hunter reports, data provided by the state's five resident wolf specialists and a new technique based upon where wolves might disperse.
Aasheim said wolves are adaptable, but require certain elements in their environment such as an adequate prey source, security from pressures like humans, and an area of land that is not already inhabited by other wolves.
"They're very territorial and will not tolerate other wolves in their area. Period. That's why a lot of these dispersers will be killed," Aasheim said.
Armed with this knowledge, FWP officials hope to have more accurate population counts as the years progress by breaking the state down into more accurate units of where they'd expect wolves to be based on habitat requirements.
Reflecting bipartisan interest in the state's wolf management plan, House Bill 73 passed through Montana's legislature with nearly unanimous support in a matter of weeks. It was signed into law by Governor Steve Bullock Feb. 6 and directly affected this year's hunt.
The bill, sponsored by Rep. Kelly Flynn, R-Townsend, allowed hunters to purchase up to three wolf tags and lowered the price of non-resident tags from $350 to $50.
According to a press release from Montana Fish, Wildlife and Parks, the bill strengthened state wildlife officials' efforts to manage a recovered and growing wolf population.
The bill also allowed hunters to take a wolf 24 hours after purchasing a tag instead of having to wait five days, authorized the use of electronic calls, rescinded the requirement to wear hunter orange outside the general deer and elk seasons and opened areas near national parks to wolf hunting.
At the time, Aasheim said FWP had worked with legislators before the session and they'd expressed an interest.
"We knew (HB 73) was coming and we were very supportive ... it was a bipartisan expression across the board," Aasheim said.
In addition, FWP worked with special interest groups before the bill passed. These groups included the Elk Foundation, Montana Sportsmen's Alliance, Sportsmen for Fish and Wildlife, the Farm Bureau, the Wildlife Federation, many outfitters and guides as well as local sportsmen's groups to help all parties come to a mutual understanding before the legislative session.
The hard work seems to have paid off.
After HB 73 went into effect Feb. 13, 74 residents and 12 non-residents purchased a second wolf hunting license. Only two of those 86 hunters filled their second tag.
"Those folks you knew were serious about chasing (wolves) because they bought a second license, and only two of (the 86 hunters) were successful," Aasheim explained, illustrating the level of difficulty inherent in hunting wolves.
In all, 18,396 wolf tags were purchased by Montana residents for the 2012-13 season. Montana hunters took 222 wolves, meaning only 1.2 percent of Montanans who'd purchased a wolf tag this season were able to fill it. Aasheim said there several factors make wolves difficult to hunt.
"Let's say (the wolf population is) at 1,000, and I'm not saying it is, but even with a population of 1,000, that's not a lot of animals on a landscape the size of Montana," Aasheim said. "Even though there's more wolves than there were, they're still not behind every tree."
Wolves are also intelligent and difficult to find. Aasheim said even with working knowledge of a population's location, a hunter would still need a great deal of experience and knowledge of the landscape.
"We need to achieve a reduction," FWP director Jeff Hagener said in a press release. "Montana has made room for wolves; we are long past the period of recovering wolves; and we are committed to managing for a recovered population. We also need to remember it is FWP's responsibility to manage with an eye to how all of our special wild resources affect each other and address issues such as public tolerance, including that of landowners. That is what we continually hear the public asking us to do. FWP is working to manage wolf numbers and will continue to use reasonable tools to maximize harvest opportunities."