Commission needs designs, information on pathway, city dock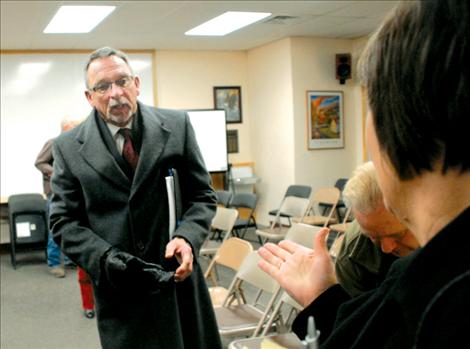 POLSON — Commission chambers were so crowded extra chairs were set up at the March 4 Polson City Commissioners meeting. Supporters of Resolution No. 1040 crowded the room as Ken Avison, Polson Redevelopment Agency president, spoke on behalf of the resolution, which would approve the walkway from Riverside Park, connecting with Sacajawea Park and also the west pier, known locally as the city dock, replacement. It would also authorize Polson City Manager Todd Crossett to secure a tax increment fund bond of approximately $641,000.
Avison said the PRA voted unanimously to adopt the two projects. A cost estimate for the trail connecting Riverside and Sacajawea Parks was $389,314, while the west pier, or the city docks, rehabilitation and refurbishment came in with a $252,148 cost estimate.
The two projects would correct blighted infrastructure at the entrance to Polson, Avison explained.
The PRA came with a letter of approval from the Montana Department of Transportation, a letter to Mayor Pat DeVries and a memo from bond attorney Bob Murdo, Helena.
When asked for a timeline, Avison said he spoke with Polson City Engineer Shari Johnson. She told Avison, pending city commission action, it would be approximately 90 days for design and bidding so both projects possibly could be completed by the middle of July.
Commissioner John Campbell questioned the fact there was no preliminary design in the commissioners' packets.
"I have a problem writing a $650,000 check on a project we've never seen," Campbell said, although he also noted, "I see no reason to hold the project up."
He said the PRA needs to come back with construction plans.
"We should know the true, actual costs," Campbell added. "We haven't seen what we are paying for. ... This project has been in the mind of this town for over 30 years. It was proposed for years under CTEP. Let's do it, but let's do it in a manner that's intelligent."
Tom McDonald, Confederated Salish and Kootenai Tribal Fish, Wildlife, Recreation and Conservation manager, explained that the pier was a great project to promote fishing. The pier will look just like the east pier, with a little more opportunity for handicapped fishermen, and both piers will provide excellent fishing.
Boat slips planned along the seawall will provide people better boating access, he added.
The commission voted unanimously to allow the project to get under way, but the PRA must come back with a final design before bonds can be issued.
Crossett's city manager comments included the good news that the first three days of March brought in half the budgeted revenue for March for the Polson Bay Golf Course. He said the golf course restaurant is planning a soft opening for food on April 20 and then a full-service opening during the middle of May.
Crossett noted that Polson Parks Superintendent Karen Sargeant is working with with an Eagle Scout from Boy Scout Troop 1947, who is planning a shoreline stabilization project as his Eagle Scout project.
Polson Police Chief Wade Nash and DOVES are coordinating a training for the PPD, and the year-round recreation committee is already planning the triathlon for this summer, Crossett said.
The golf revenue bond was issued at 2.1 percent from Glacier Bank, and the term is four years. Seven Montana financial institutions replied with an interest rate quote.
City treasurer Bonnie Manicke presented a recap of the city's debt service.
In other business, the commissioners waived the building permit fees for Lake County and Polson Fairgrounds, Inc. Utilizing a grant from the Montana Department of Tourism, PFI is replacing the grandstand seats and decks and pouring a new concrete slab and entryway.
"The practice has been," Crossett said, "to waive building permit fees for government and nonprofit building."
This project is on Lake County property and is being completed by PFI, a nonprofit.
The next commission meeting is March 18.