Lovie Bernice Bailey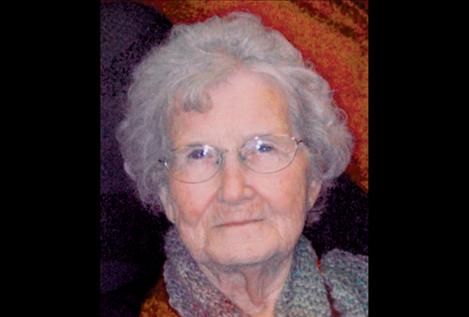 POLSON — Lovie Bernice Bailey, 87, passed away peacefully at her home in Polson, on December 18, 2012, surrounded by her family. A service was held for immediate family on December 19, 2012 at Grogan Funeral Home.
Lovie was born June 22, 1925 in Kimberly, Alberta, Canada. Lovie's mother Nora was visiting her parents. She was the sixth of nine children born to George Kelly and Nora Adams Kelly. Her family moved to the Charlo area in 1926, where she started school. The final big move in April of 1933 was made by horse-drawn wagon to Valley View.
Lovie remembered her growing up years with fondness. During the summer of 1944, Lovie and friend Fern worked in the shipyards in Tacoma, Wash. making rocket launchers for destroyers. Lovie graduated from Polson High School with the class of 1945 and then attended Cadet Nursing School in Idaho Falls. She returned home to work at St Joseph Hospital.
She met Dean Bailey at a dance at the Polson Country Club. They started dating and were married May 19, 1946. Lovie and Dean were partners in life; farming, milking cows, raising children, crops, gardens and bum lambs. They bought land and built a home near Polson. Dean worked at Sterling's Black Smith as a mill right and aluminum welder. Lovie was a full time domestic engineer extraordinaire. She managed the needs of a large family as well as being involved in activities that were important to her and her children; swimming lessons, baseball, band, choir, and 4-H, which included sewing, gardening, cooking, canning, dairy and beef calves. She was a 4-H member, parent and leader, passing skills on to her own children, grandchildren and others in the community. Lovie was a member of VFW Ladies Auxiliary, Mission Mountain Quilt Guild and a life long member of the Valley View Woman's Club.
Lovie, Dean and family returned to farm in Valley View in 1974.
Nearing retirement, she kept very active using her kitchen managing skills at Valley View Woman's Club dinners, the Pondera Restaurant and school lunchroom. Lovie's sewing skills served her well doing production sewing for Three Dog Down and Doctor Down.
Lovie enjoyed visiting friends and family, camping/fishing trips, swimming, picnics, gardening and quilting. She took great pleasure in sewing and attended many quilting classes, always sharing her wonderful hand quilted projects with family and friends. Lovie felt honored when she was the featured quilter at the annual Mission Mountain Quilt Guild Show in 2010.
Daughter Doral Diane (1955); husband James Dean (1980); grandson James Cecil (1980); son Vernon Dewey (2009); parents George Arthur (1980) and Nora Frances (1992); four brothers, Glenn, Clell, John and Leo and two sisters Glenna and Wilma precede Lovie in death.
Lovie's nine children, Janice (Duane) Olsen, Jaqulyn (Kai) Christensen, James (Beverly) Bailey, Donna (Jerry) Benson, Walter (Kelly) Bailey, Carolyn Bailey, Russell (Aileen) Bailey, Todd (Helen) Bailey, Randi Bailey (Don Garcia); daughter-in-law Christine Andersen-Bailey; 25 grandchildren; 25 great-grandchildren; one great great-granddaughter; two sisters, Leah (Calvin) Galloway in Kalispell, Georgia (Ronald) Snyder of Deer Park, Wash., and numerous nieces and nephews survive her. One of Lovie's cherished events, the Kelly family reunion, has taken place every two years since 1982.
Lovie and her family wish memorials be made to: Valley View Woman's Club, attention Donna Benson, 41545 Forman Road, Polson, MT 59860.
Join the family at the memorial service celebrating Lovie's life, March 16, 2013 at 1 p.m. at the Valley View Club House. Lunch will be provided following the service.
Messages of condolence may be shared with the family online at www.groganfuneralhome.com.