Suspect charged in Polson stabbing death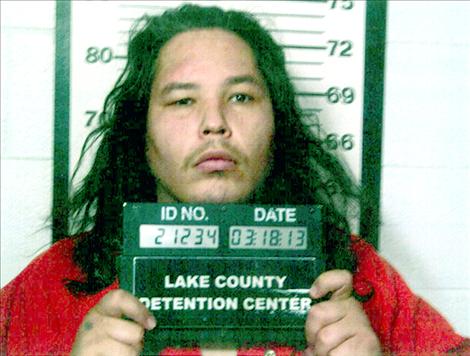 POLSON — Bond was set at $1 million for Makueeyapee Whitford, 32, a Browning man accused of murdering 26-year-old Polson resident John Pierre last week. Whitford, whose address is listed as 2012 N. Detox, Browning, is charged with deliberate homicide, a felony, in the stabbing death of John Pierre, a 26-year-old Polson resident.
Whitford will appear in Judge C. B. McNeil's courtroom Wednesday, March 27.
Pierre was stabbed around 4 a.m. March 16 at a house party at 1605 First St. E. in Polson. Officers responded to a noise complaint at the residence and found a stabbing victim.
According to court records, a couple of witnesses had been listening to music and talking in a vehicle outside the residence and then shut the music off. Pierre walked toward the car and asked what happened to the music.
Whitford, who was also at the party, allegedly approached Pierre, and a witness heard a thump and then saw Whitford closing his folding knife. The knife had blood on it, and the witness realized Pierre had been stabbed.
Whitford jumped into the back seat of the pickup just as the witness in the passenger seat exited the vehicle. The driver pulled away, but one of the witnesses stabbed the rear driver's side tire.
Pierre was transported by ambulance to Providence St. Joseph's Medical Center, where he was pronounced dead.
Pierre suffered a single stab wound through the upper sternum, near the base of his neck, according to court records. The blow nicked his aorta and pulmonary artery, causing him to bleed to death internally.
Law enforcement continued searching for the vehicle until about 5 a.m., when a Polson Police officer spotted the vehicle with a flat rear tire at Bayview Inn. Allegedly, Whitford claimed he had been at the KwaTaqNuq Resort and Casino, but a photo taken at the house party and verified by witnesses placed Whitford at the party.
Officers arrested Whitford and took him to the Lake County Jail, where he refused to cooperate with getting fingerprints, swabs or blood samples.
Officers found a silver, 3-to-4-inch pocketknife with blood on it in Whitford's pocket, as well as a debit card in the name of the driver of the car.
Witnesses said there was no indication Whitford knew Pierre prior to the alleged stabbing. Allegedly, Whitford told people at the party he had just gotten out of jail.
Whitford's criminal record indicates he was convicted of six other felonies in Washington state, including robbery (attempt); two counts of attempt to elude; assault; possession of stolen property; possession with intent to distribute; and he had two gross misdemeanor convictions for theft and assault.