'Excursions' completes Big Productions' 25th season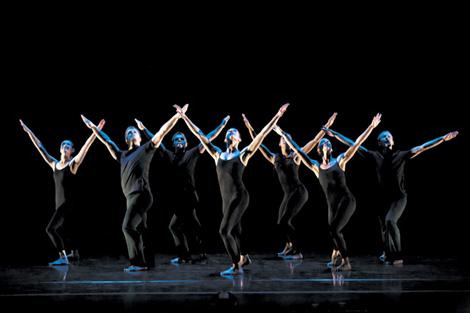 RONAN — Big Productions, a fundraising venture of the Lake County Youth Home, brings the Internationally touring dancers of Utah's Repertory Dance Theatre to the Ronan Performing Arts Center on Thursday, April 18, for a 7:30 p.m. season finale performance. This spectacular show is excitedly co-sponsored by the Total Home in Ronan.
RDT will present "Excursions," a full evening of athleticism, beauty and adventure to celebrate the end of Big Productions' 25th anniversary season. A mixed repertory program suitable for all ages, "Excursions" features works by multiple choreographers in a celebration of diverse styles and appeal. Among the works to be offered is the exuberant "Karyo" by Susan McLain, featuring nearly non-stop movement in a joyous swirl of group dynamic. Also on the program is Joanie Shapiro's setting of Ravel's famous masterpiece, "Bolero," marked by "gut busting athleticism and gut wrenching emotion." The evening will be filled out with other diverse works selected from RDT's prestigious collection of 20th century masterpieces.
In conjunction with its Ronan performance, this world-renowned dance company will offer a full slate of movement classes and lecture demonstrations in area schools and dance studios during their two and a half-day residency.
Since 1966, Repertory Dance Theatre has led the nation as America's premier modern dance repertory company. RDT is both a museum and contemporary gallery representing the scope and diversity of modern dance past and present. RDT has been entertaining and enlightening audiences throughout the United States, Canada and Europe, in major metropolitan cities as well as rural and remote areas, from Vienna, Austria, and to Skagway, Alaska.
The Repertory Dance Theatre's extraordinary finale to Big Production's 25th anniversary season couldn't take place without the dedicated local series sponsors and their donations, which are crucial to the event's success. The series is also made possible in part by the Western States Arts Federation (WESTAF), the Montana Arts Council and the Montana Performing Arts Consortium Presenter Development Program, which are supported by grants from the National Endowment for the Arts and a legislative grant from Montana's Cultural Trust.
Single tickets are available for only $12 ($14 at the door). Remember, 18 and under are free for "Series" concerts thanks to the Youth Home, but children 11 and under need to be accompanied by a ticket-holding adult.
Tickets are available from Shannon Nunlist Physical Therapy office, (first driveway on the right southbound from the junction of Highways 35 and 93), The Terrace at 308 Main St. in Polson, or from Hanson and Granley True Value Hardware in Ronan. Tickets may also be purchased by emailing: cmc@ronan.net or calling (800) 823-4386.