International Native Games Society holds conference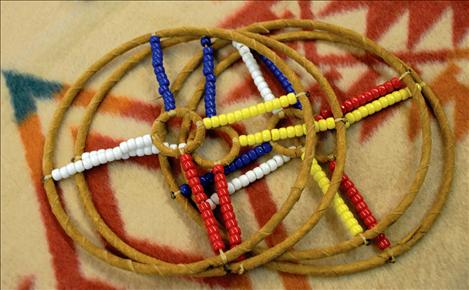 PABLO — "Our 200-year-old math game fits in the new math curriculum," Karyn Gagnon said. Gagnon, of Metis ancestry, teaches Native American games in 18 Catholic schools in Edmonton, Alberta, Canada.
The district has a high percentage of aboriginal and Metis children, and they "are proud" that their game is being taught.
The teachers always watch her carry in "sticks and rocks" and roll their eyes, Gagnon said.
Gagnon was one of the presenters at the
First International Native Games conference held June 26 to 28 at Salish Kootenai College and put on by the International Traditional Games Society.
Gagnon used a hands-on approach, sharing tips on how to keep things within a tiny budget, teach kids Native games, help keep them fit and honor their spirit.
The dollar store is her friend, and Gagnon buys dowels for run and scream sticks, hackey sacks to substitute for deerskin footbags and wooden discs to substitute for elk and deer antler slices. She includes math, language and physical education in all her teaching.
From Delhi, India, Suresh Joshi, is a Fullbright teacher doing research in the United States on using games to teach physics to high school students.
With a 31-hour plane trip to get to Montana, Joshi's presentation was titled "Does learning through games develop a parallel approach to education?"
Although the games in Joshi's home country differ from Native American games, the children are the same. They love to play games, and they learn from games.
Geared towards teachers and graduate students, the conference also had a special youth component. There was also individual competition in the atlatl throw, run and scream, ultimate warrior race, Blackfeet hoop and arrow, bow and arrow and primitive bow. Team competitions included shinney, double ball, lacrosse, stickgame and Salish hoop and arrow.
The ITGS mission is research, restoration and re-introduction of Native American Indian games.
Other speakers included: Arleen Adams, Salish; Craig Falcon, Blackfeet, Gregory Cajete, Ph.D., Tewa, Santa Clara Pueblo; Billie Jo Kipp, Ph.D., Blackfeet; Mary Ellen Little Moustache, Blackfeet; Ken "Tuffy" Helgeson, Assiniboine/Sioux; Robert Iron Maker, Assiniboine and Plains Cree; Nicole (Iikiituk) Johnson, Inupiaq of the Fish River Tribe; Oren Lyons, Onandoga; Lamarr Oksasikewiyiin, Cree; Dr. Panksepp, Bowling Green State University; Art Westwolf, Blackfeet; Gyda Swaney, Ph.D., Nez Perce/Salish; Sergio Pellis, Ph.D., professor at the University of Lethbridge.