Be careful — it only takes a spark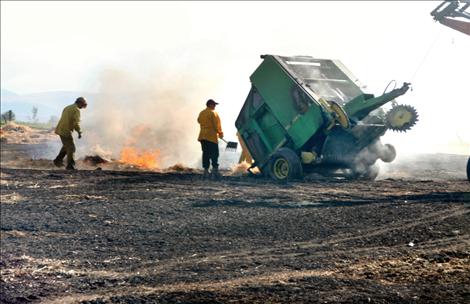 ST. IGNATIUS – Combined efforts from the St. Ignatius Fire Department and Confederated Salish and Kootenai Tribes' Division of Fire conquered a 20-acre fire started by a straw baler last Monday afternoon.
"It's dry enough that it only takes a spark," St. Ignatius Fire Chief Martin Frazzini said.
Fire danger is extreme.
"We are at the highest alert level," he said. "It has the potential to be one of the worst fire seasons this year. We are going to be busy."
Precautions are necessary. Stage 1 fire restrictions went into effect Aug. 1 on the Flathead Reservation, which still allows for campfires in "recreation sites" and "improved sites."
But Frazzini would take it a step further.
"I would advise against camp fires. Watch machinery. No smoking outside the vehicle, and don't throw out lit butts."
It didn't take much to start the field fire on Foothill Road.
"I looked back and saw the fire in the windrow behind me," said farmer Roger Detert.
Neighbors saw the flames and called the fire department as Detert quickly drove the bailer hooked onto his tractor into the adjacent green field.
"I was headed for the sprinklers," he said.
Detert speculated that the bearings inside the baler became hot while he baled straw and created a small spark. The dry straw quickly caught fire in the powder dry dirt.
Everyone involved was thankful the blaze was stopped.
"I'd like to extend thanks to the Tribal fire department. We would have been out here a lot longer without them," Frazzini said.
Detert was grateful the only casualties included the baler, ten straw bales and a box of tools.
"I'm just so thankful to everyone — the fire crews and our neighbors — for calling. The people here are wonderful. They give all they can. I'm thankful it wasn't worse. No one got hurt. We were lucky."