Lady Pirates shut out, but find redemption; boys drop two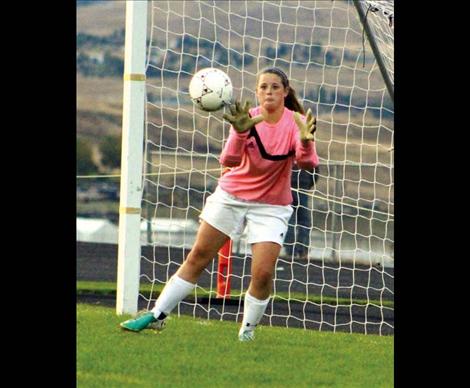 WHITEFISH – The Lady Pirates took a dive on the soccer field in the 0-4 game against Whitefish on Tuesday.
While goalkeeper Jenna Evertz knocked down 10 saves, it just wasn't enough without the much-needed offense.
"The girls were off their game," Coach Michael Hewston said. "They each played well individually but didn't play so well together," he said.
On Saturday the Lady Pirates toppled Bigfork with ease, walking away with a 7-0 victory.
Lady Pirate Hanna Kasnitz led Polson by "pulling a hat trick" with three goals. Monica Cleveland had two kick scores into the net and Tiara Duford and Linnea Madsen came away with a goal each. Kyrie Bitterman assisted on two of those shots.
"The Lady Pirates were able to utilize some options we had been working on in practice," Hewston said. "We had been practicing moving off the ball during the attack to create options in the attacking third, it worked in at least three of the scores."
On the boys' side, the Pirates are still trying to catch that big break but didn't get it in the 1-6 loss to Whitefish on Tuesday.
Spencer Raymond shot Polson's only goal in what Coach Jess Kittle says is his first varsity goal of his high school career.
Whitefish is a tough team to beat as the reining state champions. "Whitefish has a good team this year and has a lot of players returning from their state championship team last season," Kittle said.
On Saturday the Pirates took a fall to Bigfork 1-4.
Though Jonah Kasnitz opened early with a quick smash into the net, Polson couldn't pull off any more scores in the remainder of the game. After an offside penalty, the Pirates "lost their intensity," according to Kittle.
The Pirates will host Libby Saturday, Oct 12.
The girls' game begins at noon and the boys follow at 2 p.m.