Robbers steal donations, smash door to Ronan library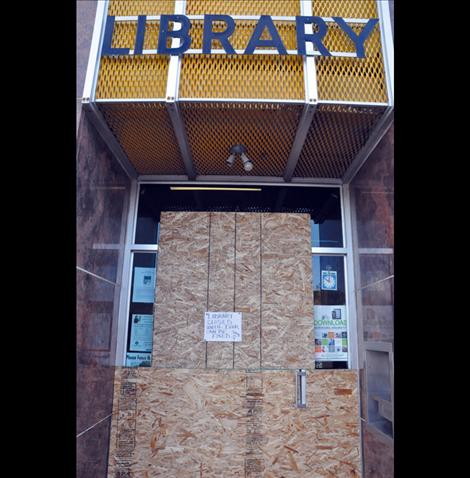 RONAN – The Ronan Library was closed over the weekend after burglars struck late Friday night and stole its donation jar.
Librarian Michelle Fenger said she received a call at 9:20 p.m. on Friday night because the alarm was going off. When law enforcement arrived on the scene they found a rock had been thrown through the glass front door to the library. The thieves unscrewed the bolt holding down the five-gallon plastic Culligan donation jar and made off with it, but did not take anything else.
"The police were fairly quick to respond so whoever did it was in and out pretty fast," Fenger said. "It was a quarter to a third full of coins and bills. The last time we emptied it out it was a little over half full and there was a little more than $900 in it. I'm going to guess $300 or $400 (was in it) but I have no way to tell."
Ronan Police and the Lake County Sheriff's office responded, Fenger said. The rock and wing nut of the bolt were collected as evidence.
City of Ronan public works director Dan Miller boarded up the library once police finished investigating. Fenger said the library will remain closed until a new door can be installed. Fenger and volunteers spent Saturday morning cleaning up broken glass.
The burglary came at a time when donations are critical to the library. A taxation district was formed at the beginning of the summer that will provide revenue to the library and allow it to formally separate itself from the city. Until the first revenue from the district arrives in December, the library is financially strapped. The library's board has considered loans from the City of Ronan or other sources to sustain itself in the interim.
"For everything the library's been going through to survive, and then someone does this. It's just sick," said library volunteer Kathy Ackermann.