Baldwin honored as Montana Teacher of the Year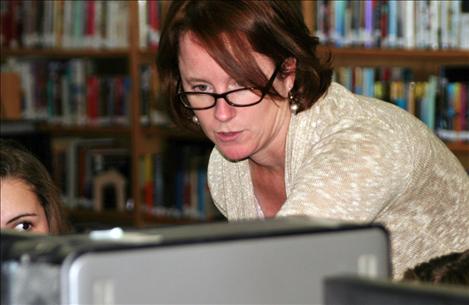 ARLEE – This time recognition for a job well done goes to the teacher. High school English teacher Anna Baldwin's dedication to teaching, high expectations and cultural awareness got her noticed by the Montana Professional Teaching Foundation.
Baldwin was presented with the Teacher of the Year award by State Superintendent Denise Juneau last Thursday at a ceremony in Bozeman.
"It's the highest award a Montana teacher can get," said Eric Seaver, president of the MEA-MFT and chairperson of the Montana Professional Teaching Foundation. "It's a tough decision and they can only select one. In a century, there are only 100 teachers of the year for Montana. It's a big deal."
Baldwin now represents Montana as the spokesperson for public education. She will attend events including a trip to meet President Barack Obama. She hopes to use the position to spread a positive message about education.
"I want people to look at all of the great things teachers do every day. Teachers ought to be change agents by committing to spreading great news, seeking ways to improve and celebrating what's going right in our schools," Baldwin said.
"I think one of the biggest challenges teachers face is the negative rhetoric surrounding education issues from politicians, local communities and the media, and the worst part is students hear it and internalize it. I'm not saying there are not any problems but we need to address them positively."
Current Arlee students agree that she is a model teacher.
"She is always available," Bailey Rice said. "If you text her at 10 o'clock at night she'll answer. I've sent her a text asking if I could change the topic of a paper. She responded instantly."
Courtney Perry appreciates Baldwin's ability to help develop her voice.
"She works with you and she makes you think. She has taught me how to vocalize what I'm thinking and how to express myself with words," Perry said.
Baldwin's interest in teaching sparked when she was in high school.
"I was in 11th grade in an Algebra class and a kid sat behind me who never understood it. I was able to explain it. I think that was my first teaching experience. It was one of those moments. I realized this could be the thing for me," Baldwin said.
She went on to get a Bachelor of Arts degree in literature from Georgetown University. Tutoring and teaching English as a Second Language students in places like Nicaragua fully ignited her interests in teaching and inspired her to earn a Master of Teaching degree and a Doctor of Education in Curriculum and Instruction at the University of Montana.
"I got my doctorate because fundamentally I believe in education. I wanted to do more for my students and I knew a program like that would make me a better teacher," she said.
She spent the first four years of her teaching career at Two Eagle River in Pablo. Ten years ago she moved to Arlee to take a position as the English teacher.
Education, she says, "is the great equalizer".
"It's provided to every child in this country. In my small way I can do my part to hold high expectations and pull the struggling ones up to create a level playing field."
And her goal as a teacher: "I want my students to know how important it is to think. Every student who learns to write better, to read more effectively, to speak clearly and confidently is an accomplishment for me as a teacher. I lay the responsibility for these successes squarely on two features of my teaching: high expectations and cultural responsiveness.
Baldwin said she is known as tough but encouraging, and when those students leave her class, "they have something to take with them."
Her goal, she says, is easier to achieve in a small school.
"I know the parents. I know the community. We can work together to figure out what a child needs. Our school does a good job of providing for everyone academically. We have college credit classes and a safety net for struggling students."
Baldwin often centers her lessons on cultural diversity, including trips to Fort Missoula where students took pictures and answered research questions about the Japanese internment camps. Other projects include learning about Tribal history through literature and research.
"We learn about ourselves by learning about others," she said.
Receiving the Montana Teacher of the Year award has inspired Baldwin to reflect on another project.
"I'm thinking of starting a website that celebrates what's going well in education for parents, teachers and the community. Teachers could post some of the great things they are doing each day. I'm feeling out the idea for this but I think it could help turn the negative rhetoric around."