Parents, student ask Ronan school board to reconsider cheerleading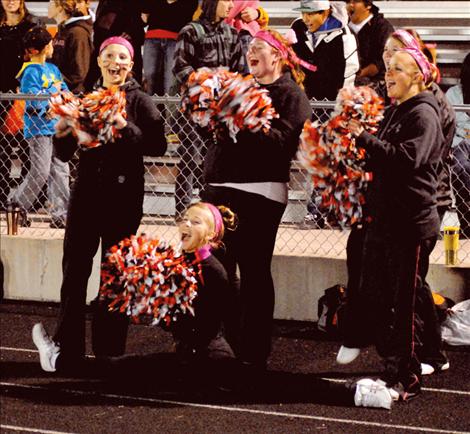 RONAN —Two parents and a student asked the Ronan school board on Oct.14 to consider alternatives to eliminating the school's winter cheerleading program. They also asked the administration to address ongoing harassment of the cheerleaders at games this year.
Parent Lisa Corbett said high school principal Kevin Kenelty told her daughter at the beginning of October that there was a possibility the cheerleading program would be cut. Her daughter, who has cheered three years at Ronan, was upset by the news.
Kenelty said the decision was not sudden.
"Last year, budget came up and we had to look at places to trim money," Kenelty said in an interview. "We had two cheerleaders at end of the winter season. When we were looking at places that would be least harmful to cut with kids and activities, that was one."
The decision was made to have cheerleading for the fall season, but not in the winter. Kenelty did not have access to information that gave estimated savings for cutting the program during an interview.
When freshman cheerleader Brittany Boles told her friends about the district's plan to cut the program, they were surprised.
"The second I told everyone cheerleading was canceled, everybody was like 'What? No, we really want you at our games,' or 'What? No, there's no way they are canceling cheerleading,'" Boles said.
Boles's mother Jennifer O'Connor said there is a lack of communication between the district and parents and students.
"Thankfully (my daughter's) best friend's mom works here, or we wouldn't have known about cheerleading tryouts," O'Connor told the board. "There's no communication whatsoever, about any of that stuff unless you go on the website and search and hunt and find."
Kenelty said the school is researching several options about cost effective ways to have some sort of school spirit group. One possible solution is to have cheerleading as a club, instead of an official sport. Another possibility is to have a pep club.
O'Connor and Corbett said it would not be fair to the cheerleaders who have worked year after year on dozens of cheers to have their sport taken away in favor of pep club.
O'Connor volunteered to coach the cheerleaders for free. She told the board she was a registered nurse, so she has CPR certification already, and was willing to get the other certifications required to coach the team. She has previously worked for a personal trainer and has talked with cheerleading coaches across Mission Valley about ways to coach, train and financially support a team.
Two other mothers also are willing to volunteer, Corbett said.
She said she hopes the team will continue to exist because it gives at-risk students a reason to keep their grades up to maintain eligibility.
"There are also issues — especially at the volleyball games — while there are administrators there, the kids are allowed to hit the cheerleaders," Corbettt said. "They are allowed to call the cheerleaders vulgar names. They are allowed to harass the cheerleaders and nothing is being done about it."
O'Connor has video of the cheerleaders being harassed by the audience. At volleyball games they have to stay in a small space between the sideline and the bleachers. Spectators sitting in the front row can easily reach out and touch the cheerleaders, or could fall on top of them accidentally, O'Connor said.
The administration moved the crowd two rows higher to alleviate the problem, Kenelty said. The crowd then refused to participate in the cheers, O'Connor said. At times, the audience has come up with their own vulgar cheers that the cheerleaders have tried to reign in to no avail, O'Connor and Corbett said.
Kenelty said there has been discipline for individuals that behaved inappropriately at games, but could not give specific details due to issues of student privacy.
Corbett, who was a cheerleader at Ronan when she was in school, said although her daughter is personally affected by the behavior and possible elimination of the team, the school and community are impacted also.
"I just feel that we are losing school spirit as a whole because of what's happening," Corbett said. "The school is not behind the cheerleaders. The kids aren't behind the cheerleaders. We need to do something. When you lose school spirit, you lose morale."
Boles said she knew of 20 students who are interested in trying out for cheerleader. There are currently five cheerleaders on the team. O'Connor worries that if the school waits to take action, students will lose interest in trying out.
Members of the board said they could not take action on the cheerleading program because it was not on the agenda. Superintendent Andy Holmlund told the board that he had left the handling of the situation to Kenelty and athletic director Lucky Larsen.
In other business:
• The board approved the hiring of bus monitor and paraprofessional Elly Woll, paraprofessional Anndrea Normandeau, technology supervisor Dustin Rowe, substitute bus driver Wade Ingle, and paraprofessional Roxi McDermott.
• The board approved an overnight student trip to Great Falls in March.
• A May trip to Yellowstone National Park for the Montana Natural History Class was approved.
• Holmlund said he hoped the school soon would have the capability to perform live video broadcasts of school board meetings and archive them on the school website so people could watch at their convenience.