Polson school board hears feedback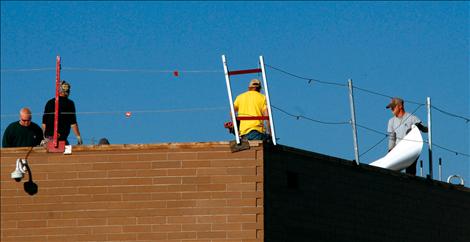 POLSON — Polson School Board meetings begin with time for public comments, and at the Oct. 14 meeting Marine veteran Sgt. Chuck Lewis, who served during the Vietnam era, spoke to trustees about welcoming veterans to the Polson schools.
Lewis recently returned to the Mission Valley from a six-month walk across the United States to benefit wounded veterans. Along the way, he was welcomed into several schools to speak to students about flag etiquette, patriotism and honoring men and women who serve in the military.
"I think it's important you invite veterans to come into the classroom," Lewis said.
Amy Carter, who introduced herself as a parent involved in the community, addressed the board about the new reading curriculum, "Journeys."
Stating that she wanted to accentuate the positive, Carter said the curriculum facilitates discussion and teamwork, "but I think that's where it stops."
"It's really disconcerting for a parent to see that education of our children has slowed down drastically with this program," Carter said.
She's not the only parent concerned about the curriculum, which she called "a canned program for lazy teachers, which teaches the very basics and that's it."
Board chair Caryl Cox asked Carter if she had discussed the issue with the teacher, the principal and also with the curriculum director, noting, "It takes a while to get (a curriculum) to where it meets everybody's needs."
In other business, Dan Kinyon gave a quick update on the Polson High School auditorium roof. Kinyon estimated three-quarters of the roof would be completed by the week of Oct. 21.
"That's about as far as we can go before we decide what to do with the (heating and cooling equipment,)" Kinyon said.
That portion of the roof replacement probably will be finished in spring or early summer of 2014, he said.
The quarter of roof yet to be completed is over the entrance to PHS, an area that has not leaked.
Kathy Knapp, the district's newly hired Family Involvement Coordinator, reported she's made 18 home visits and is updating contact information for families at all the schools.
"How can you implement an attendance policy if you can't contact anyone?" Knapp asked.
She's also involved in the backpack program that provides food for students who might go hungry over the weekend. So far, she's delivered 35 backpacks throughout the district.
The trustees continued their journey through the policy manual and approved payment of the district's bills.
Polson School Board meetings are held the second Monday of each month at the District Office, 111 Fourth Ave. E.
The next regularly scheduled school board meeting will be Nov. 11 at 5:30 p.m.