Lady Pirates' soccer: A season to remember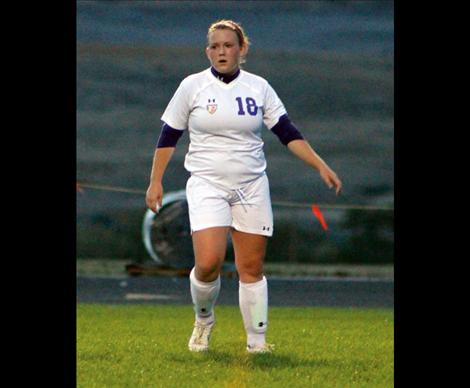 POLSON – With a team dominated by freshman, the Lady Pirates demanded to be taken seriously by their opponents throughout the season. The Lady Pirates ended with a season record of 4-3-1 and though they lost the battle in the post season playoffs, five year Coach Michael Hewston couldn't be more proud.
"This is the first winning season," Hewston said. "Baby steps."
A huge factor in the Lady Pirates success this season, according to Hewston, was the incorporation of "Core Values" adopted from the University of North Carolina's woman's soccer program. The first core value states "we don't whine," which sets the stage for making each player tougher while dealing with the stress of the situation. Each of the 11 values that follow has an important message which Hewston had each girl memorize. These core values helped form the team and taught them to play together, Hewston said.
"When the girls worked together, good things started happening," he said. "It worked out really well."
Senior Monica Cleveland gained the spot as team captain this year. Hewston was impressed with the way Cleveland stood up and took charge. She was a big part of keeping the team on top of things. "She has an ear on the team, she's able to pick up on the workings," Hewston said. "She's a rock in the center of the team and an asset to the coach."
Hewston also gives a hand to seniors Melina Jore — playing in only her second season ever — and Monica Harrod and Kyrie Bitterman. Although it's goodbye for the seniors, Hewston looks to the years to come. "I think over the next three years we'll have our shot," he said. "We have some firepower and will do nothing but get stronger."