Lady Vikings grab District 10-C title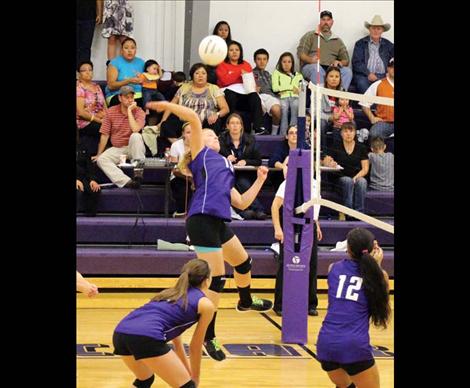 HOT SPRINGS — The Lady Vikings will be continuing on to the Western C Divisional tournament after earning the first place crown at Districts in Hot Springs.
Charlo had a hard-fought, 3-2 victory Friday against Superior.
Connor Smith served up four of the Lady Vikings seven aces. Alyssa Doty came away with 20 digs in the five sets while Aspen Runkel worked the net for 11 kills.
On Saturday's second day of the tournament, the Lady Vikings dropped their first match to St. Regis 1-3.
Doty led her team with nine kills and Runkel tried her might defensively with 22 digs.
With the loss, the Lady Vikings would have to defeat Hot Springs and St. Regis twice for the title, which they did with ease, allowing only one set loss over the next 13.
First in line for Charlo's fury was Hot Springs, which the Lady Vikings mowed over without a bump, stopping them 3-0.
Madison Foust lent a hand to the Lady Vikings with 10 assists and Mikaylan Roylance laid down three aces.
Next up, St. Regis. Though the Lady Tigers took an early win away from Charlo, the Lady Vikings were not going to let that happen again.
In the first of two games the Lady Vikings served St. Regis their first loss of the tournament, 3-1, forcing a game two tie breaker.
Smith had a good day at the line with five aces and Sienna Brown and Doty combined for 22 kills, 11 apiece.
In the championship game the Lady Tigers gave Charlo a run with three close sets, but the Lady Vikings held tight and went home with the title win.
Runkel stayed strong at the net with nine kills while Doty logged nine digs and three aces.
The Lady Vikings will head to Butte on Thursday to compete in the Western C Divisional Tournament.