Miracle at Lake Mary Ronan: Women honored for saving Missoula man's life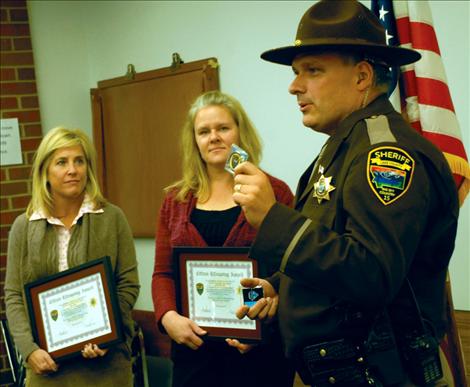 POLSON — Enjoying a last camping trip at Lake Mary Ronan in August before school started, neither Jennifer Holt nor Megan Olsen thought they would have to use their CPR skills.
But Bob Christensen is glad they did.
Christensen suffered a heart attack on Aug. 25 after waterskiing.
Olsen said she heard the call for a cell phone from Christensen's family at the dock on Lake Mary Ronan. Olsen was the first one there, according to her husband Drew.
Holt and Olsen did not know each other. The women were both vacationing with their families on that day.
A physical education teacher and former health teacher, Olsen had learned CPR through her job, and teaches CPR to her students.
"Drew and I ran down there. (Bob) was not breathing and there was no pulse," Olsen said.
About this time Holt, a physical therapist, arrived.
"Meg did the breathing, and Jenny did compressions," a friend said.
Holt said she could feel Christensen's ribs breaking, but the two women kept the CPR going for 20 to 25 minutes.
At last the Alert helicopter and medical crew arrived and treated Christensen with epi pens and by shocking him before whisking him off to Kalispell Regional Hospital.
"The gift of life is the greatest gift anyone can give," said Lake County Sheriff Jay Doyle at a ceremony honoring the two women on Nov. 13 at the Lake County Courthouse.
Both Olsen and Holt received plaques, challenge coins and lifesaver pins from the Lake County Sheriff's Office. Their children received LCSO teddy bears.
Sheriff Doyle asked Justin Bartels, flight medic on the Alert helicopter, to speak. Bartels noted how significant immediate CPR is for the patient.
"I don't know how they managed to do CPR for that time," Bartels said.
The ALERT crew did another 20 minutes of CPR, bringing Christensen's total to 45 minutes. Bartels had said there's about one in 100,000 chance to get a patient's heartbeat back after CPR for that long.
Following up in the hospital, Bartels said on the second day in the hospital Christensen wanted the tube in his throat removed so the medical staff took it a couple of days earlier than normal. Christensen also retained full brain function.
Christensen, contacted later by phone, said, "I didn't remember anything for a whole week."
Christensen, a Missoula resident, is retired, likes to fish and has a trailer that he keeps up at Lake Mary Ronan in the summertime. Christensen, his two daughters and one son-in-law had been waterskiing when he had his heart episode.
Witnesses said he was able to get to the boat, and then his family headed the boat to shore, calling for help and a cell phone.
"My doctor said I was pretty dang lucky I even came out of it. If (Jenny and Meg) hadn't been there, I wouldn't have made it."
Christensen hasn't seen Olsen and Holt since his heart attack, but when he does, "I'm just going to tell them thank you and give them a big hug."