Remembrance lanterns send warm wishes, light into Ronan evening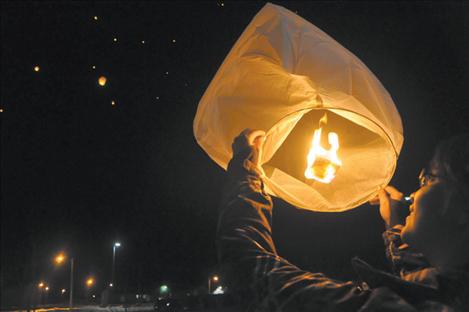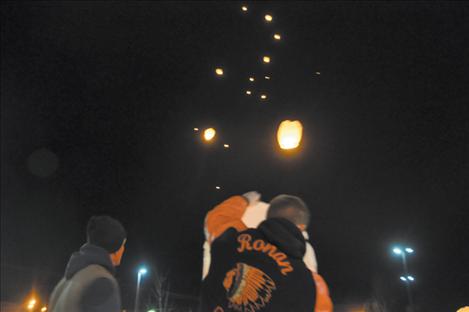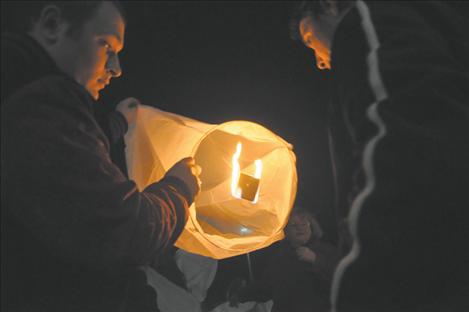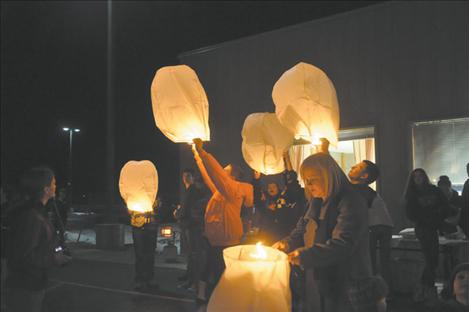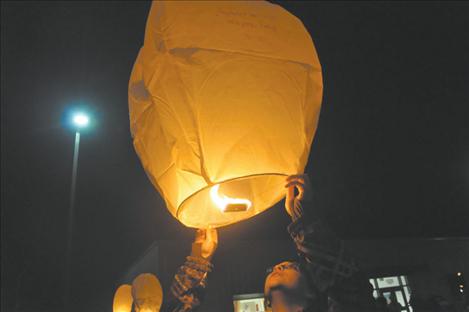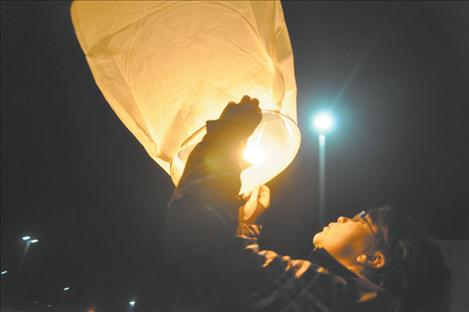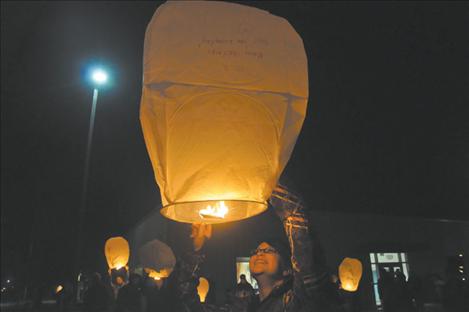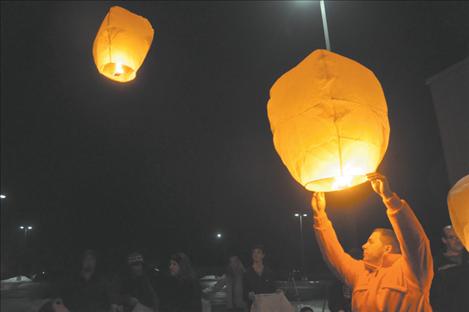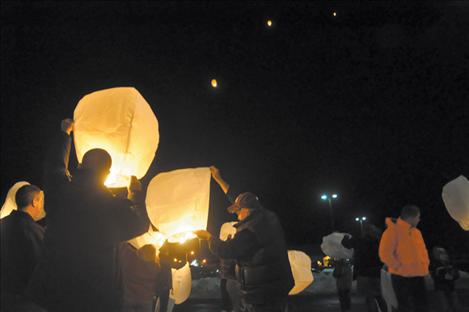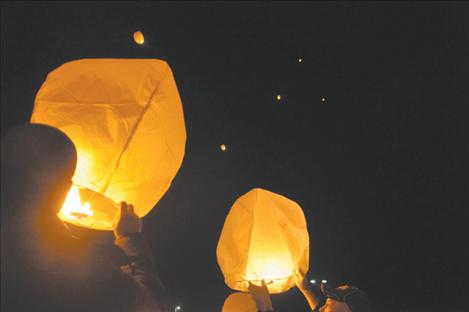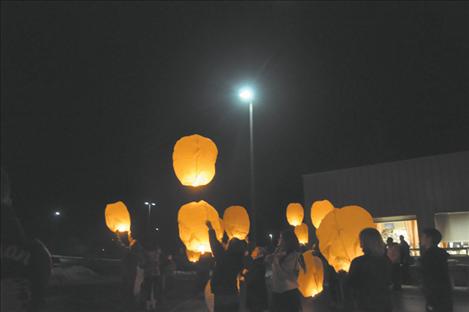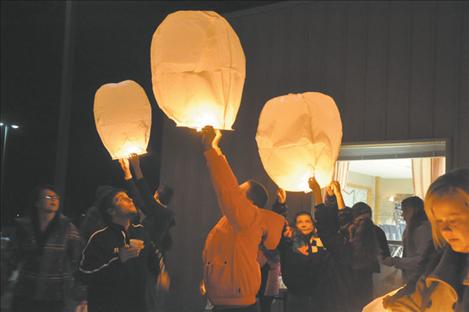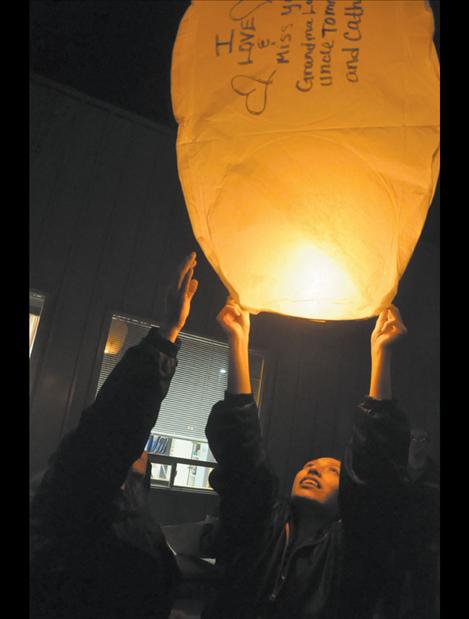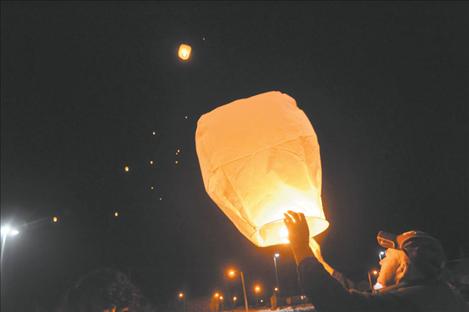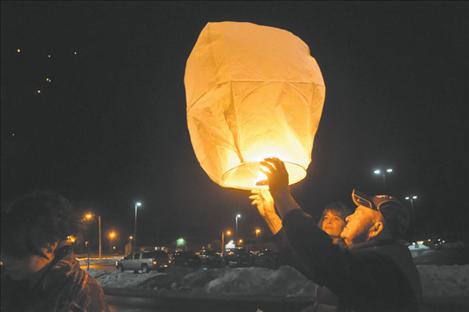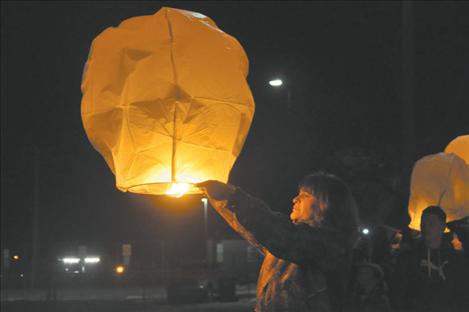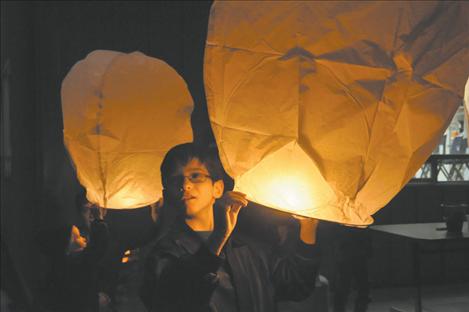 ‹
›
RONAN – This is Harry Bean's second Christmas without his wife, Judy.
"I took her with me everywhere I went for 43 years and she didn't get tired of me, I guess," Bean said with a laugh. "She always came home."
It's been many more years since teenager Sydnee Clairmont's grandfather died when she was a small child.
"I just remember calling him 'papa'" Clairmont said.
Clairmont and Bean were two of many people to send off remembrance lanterns that floated high into the winter sky on Wednesday in honor of loved ones who won't be gathered around the Christmas tree this year.
"They are not just for the people that are deceased or gone," Ronan High School Student Body Treasurer Brittney Mock said. "They are for people that you can't be with during the holidays. People you can't travel to be with, military especially."
This is the second year the Ronan Student Council sold the lanterns to raise funds for its yearly activities.
"We just thought it was a good way to get the community together," student council member Alaina Madsen said. "It's a really cool thing to do around Christmas."
Dozens of lanterns floated upward into the night sky, most carrying messages of love into the heavens.
"Love you Tom," read a lantern lit by Dianne Peterson. This holiday season is the first without Peterson's son, Tom, whose life and coaching career at Ronan High School were cut short by colon cancer in June.
"I love and miss you Grandma Louise, Uncle Tommy and Catherine!" read one lantern launched by Patricia McCrea and Angel Malatare.
Mock's family sent lanterns up for several family members, but there was a special one for her Aunt Glenda Cook, whom she wished a Merry Christmas in writing on a lantern.
"My aunt Glenda was a very unique woman," Mock said. "She liked to have fun. She did a lot of things to promote being an independent person and being strong. I always admired her for that."
The strange floating lights attracted the attention of some people from the highwayfolks traveling on the highway, who weren't able to dedicate a lantern for their own loved ones, but stopped to enjoyed the ceremony. These people launched lanterns that were purchased by those not in attendance. One hundred of the glowing beauties drifted skyward before the night was over, raising $425 that will be used for spirit activities, field trip scholarships, and a new television bulletin board for the high school.
"We just found out about it, or we would have bought one. My dad actually just passed away." Jennifer Read said as she and her son Uriah Read launched a lantern. "It's just such a neat idea."
Sponsor Bonnie Eva said seeing the reaction of the community to the lantern lighting is rewarding.
"I had one lady who is new to the community tell me about how she thought this was absolutely beautiful to have," Eva said. "Just to hear from people about how it makes them feel lightens Christmas."