Arlee, Two Eagle come up big at Dave Tripp meet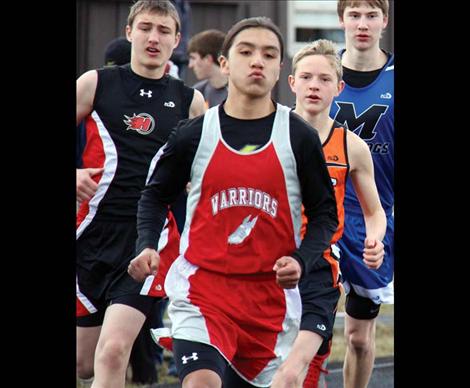 HOT SPRINGS – The Scarlets hammered their opponents on Friday, taking first in 15 of 16 events at the Dave Tripp track meet hosted by Hot Springs.
Scarlet Whitney Malatare is looking for the world domination that would even make Dr. Evil from the Austin Powers films envious. Malatare took first in three events including the 200m, the long jump, and triple jump. Malatare was also a part of the Scarlet relay teams that took first in both the 400m and 1600m races. Scarlet "two-for" first place finishers included Jessica Knoll in the 400m and 800m and Carly Hergett in both the 100 and 300 hurdles. Alex Adams finished first in the 100m, Becca Whitesell (1600m), Amelia North (3200), Alicia Camel (discus), Bryndel Goyins (javelin), and Courtney Perry (shot put). First place relay teams consisted of Adams, Malatare, Whitesell and Knoll in the 400 and Malatare, Knoll, Whitesell and Hergett in the 1600.
Coach Russell Baker was impressed with his Scarlets.
"It was nice to see several different girls winning events," he said. "With nine individual girl champions, I thought we spread the wealth around nicely."
The Scarlets also dominated the rest of the brackets with second, third and fourth place finishes. Coming in at second was Alex Adams (200m, long jump), Abby Yocum (400m, triple jump), Becca Whitesell (800m), Amelia North (1600m), Eula Fullerton (100h, long jump), Violet Pablo (300h, javelin), Alicia Camel (shot put), and Bryndel Goyins (high jump). Third place finishers include Knoll (200m), Pablo (discus), Goyins (high jump), and Hergett (long jump). In at fourth was Goyins (400m), Yokum (800m), Camel (javelin, triple jump), Fullerton (long jump) and a fourth place tie for Hergett and Yokum in the high jump.
Arlee and Two Eagle River each took home a first place finish for the boys with Warrior Donovan McDonald hurling 122'8" in javelin and Eagle Byron Carpentier clearing 18'11" in the long jump. Carpentier also grabbed a second place finish in the 100m while Donovan secured second in the 200m. Warrior Harold Yokum took second in both the 110 hurdles and 300 hurdles. Third place finishers include Eagle DeShane Hewankorn (100m), Zach Grimmer (Jav), and Yokum (TJ). Coming in at fourth was Warrior Zach Felsman (800m, 1600m), and Leondre Bolen (TJ). The Warriors grabbed a second place finish in the 400m relay and third in the 1600. Warrior Isaac Desjarlais, after coming back from a post basketball season surgery, ran anchor in the short relay. Coach Baker said Desjarlais "had no problems, which is a good sign."
Both Arlee and Two Eagle River will head to Thompson Falls April 17 and then both will return to compete in Arlee April 24.
Results
Boys
Team scores - Hot Springs 176, Arlee 85, Noxon 78, Superior 73, Two Eagle River 32.
Girls
Team scores - Arlee 292, Noxon 84, Hot Springs 68, Superior 33, Two Eagle River 1.