Polson drums up golds at Divisionals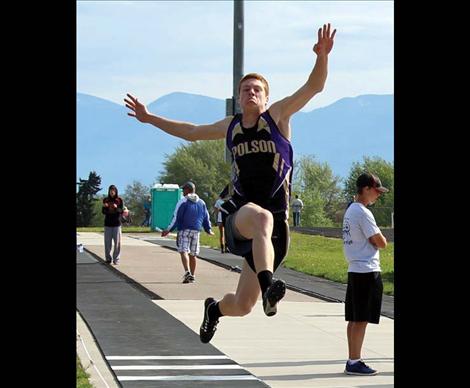 FRENCHTOWN — The Pirates and Lady Pirates picked up some number ones with Jacob Clairmont snagging two first place finishes. Clairmont leapt into first with a 40.93 in the 300-meter hurdles and lunged 20-4.5 for a first place podium spot in the long jump. Clairmont also placed second in triple jump and the 110 meter hurdles, leaving Polson fans in stitches over what this kid will do at the State meet.
Proving his arm strength, Austin Corrigan grabbed first in discus, hurling 141-2.2 and placed fourth in shot put. Pirate senior Tel Motichka also had a good showing, picking up second place in the 1,600 meter with a time of 4:48.68 and third in the 800 meter. Other third place finishers for Polson include Jared Rubel (300 hurdles), and Frank Pope (400 meter, pole vault). Fourth place finishers include Joe Gallatin (discus, javelin), and Andrew Weltz (triple jump). Polson relay teams took second in the 1,600 meter and fourth in the 400 meter. The Pirates took second overall with a team score of 115.
For the girls it was the relay teams that stole the show, placing first in both the long and short relays. Tiara Duford, Chadelle Smith, Erica Alfiero, and Lydia Bowman combined for a 51.17.2 first place time in the 400 meter relay and Duford, Bowman, Madison Wheeler, and Claudia Hewston took home first in the 1,600 with a finish time of 4:10.38. Hewston also placed first in the pole vault, lofting 9-0 and took second in the 1,600 meter and 800 meter individual runs. Adding to second place for the Lady Pirates were Mariah Corrigan (javelin), Chloie Huerta (shot put, discus), and Kidron Lee (high jump). Third place belongs to Bowman (200 meter), Duford (400 meter), Wheeler (300 hurdles), and Anna Young (3,200 meter). Duford placed fourth in the 100 meter and 200 meter. Also placing fourth were Smith (300 hurdles), Young (1,600 meter), Gracie Carlyle (high jump), and Amanda Harrod (discus). The Lady Pirates scored 135 as a team putting them in third.
The top five athletes in each event qualified for the State meet in Butte May 30-31.
Results
Boys
Team scores: Whitefish 216, Polson 115, Columbia Falls 103, Frenchtown 87, Libby 4.
State qualifiers – Jacob Clairmont, Tel Motichka, Austin Corrigan, Frank Pope, Joe Gallatin, Mike Corrigan, Andrew Weltz, Jared Rubel, Joey Mullen.
Girls
Team scores: Whitefish 176, Columbia Falls 157, Polson 135, Frenchtown 43, Libby 14.
State qualifiers – Claudia Hewston, Tiara Duford, Anna Young, Madison Wheeler, Chadelle Smith, Lydia Bowman, Mariah Corrigan, Nicole Clairmont, Chloie Huerta, Kidron Lee, Gracie Carlyle, Erica Alfiero, Amanda Harrod.