Bowers and Dupuis announce marriage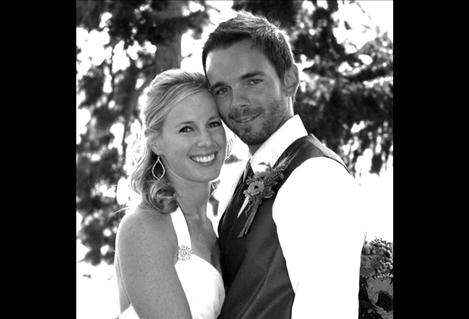 POLSON — Jessica Bowers and Chance Dupuis were married Sept. 7, 2013, on the shores of Flathead Lake at Finley Point at the home of Carolyn Cole, aunt of the groom. Pastor John Warneke was the officiant. Jessica is the daughter of Jo Ann Bowers and the late Bob Bowers. Chance is the son of Kendall and Linda Dupuis, all of Polson. Grandparents of the bride are Marvel and the late Jack Marrinan of Camas Prairie; the late Florence Bowers; the late Richard Bowers and his wife Dana of Polson. Grandparents of the groom are Lois and Oliver Dupuis of Polson and Jim and Lou Duford of Ronan.
Attending the bride were longtime friends Jenni Nesladek Lemons as Matron of Honor and Kyla Karstens and college pal Tiffany Rinaldi as bridesmaids. Attendants of the groom were his brother Daylen Dupuis as best man, high school buddy Mike Schallock and college friend Michael "Mad Dog" Madison as groomsmen. Lindy Dupuis and Lola Millard, nieces of the groom, were flower girls.
Jessica is a graduate of Gonzaga University with a degree in Nursing and is employed at Community Medical Center in Missoula. Chance is a graduate of Whitworth University and graduates this spring from the University of Montana with a Doctorate in Physical Therapy.