Dogs sniff out hidden aquatic hitchhikers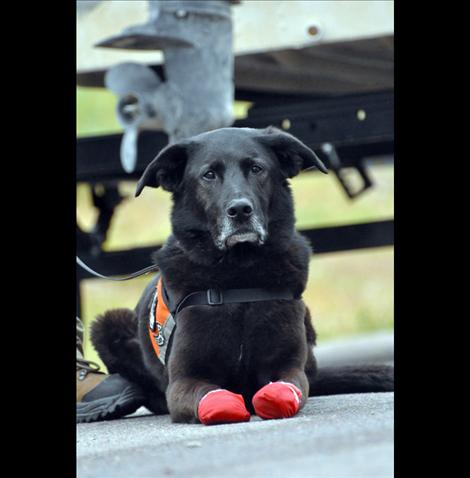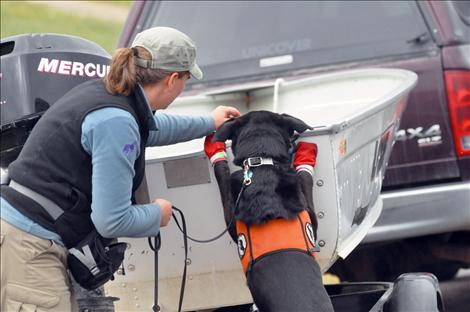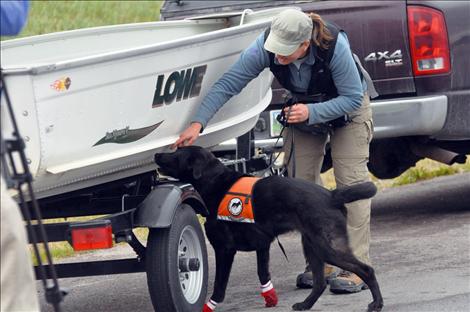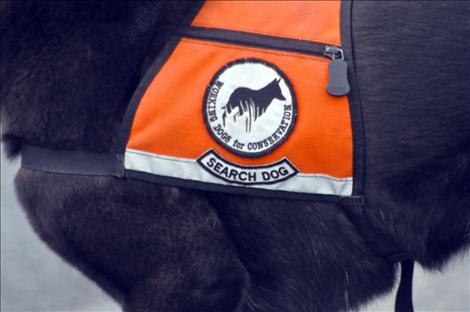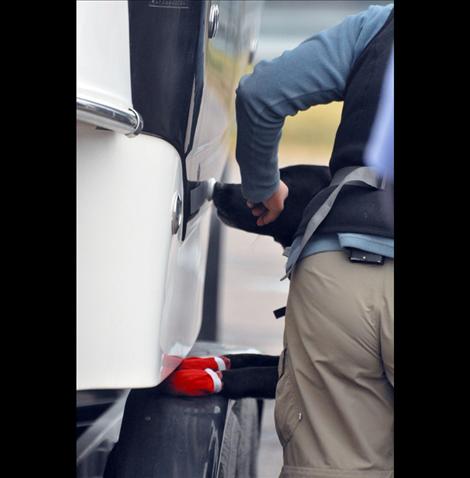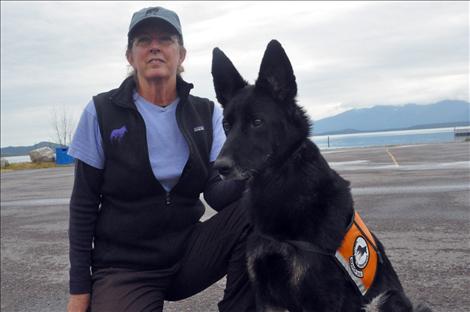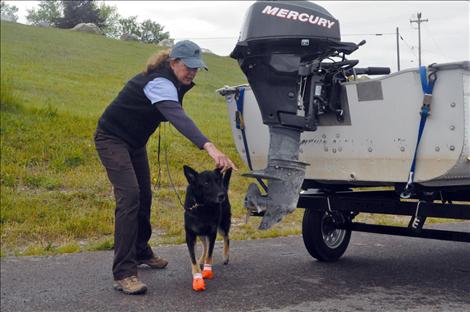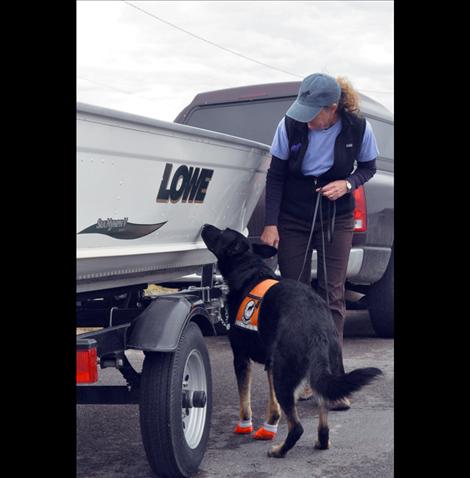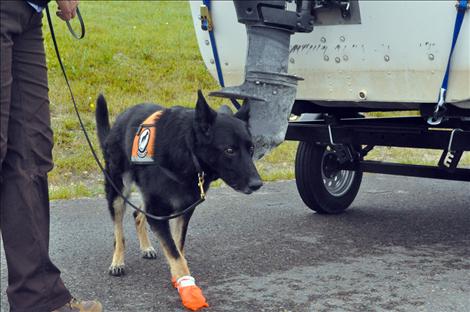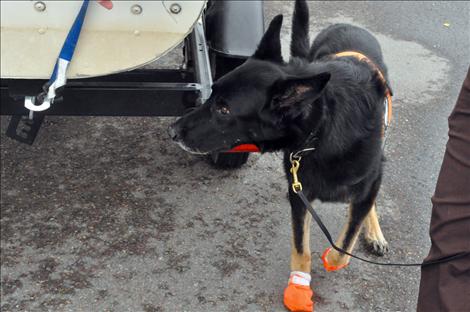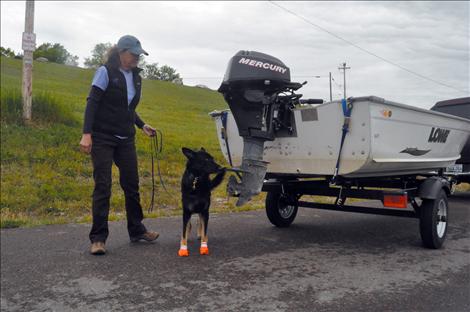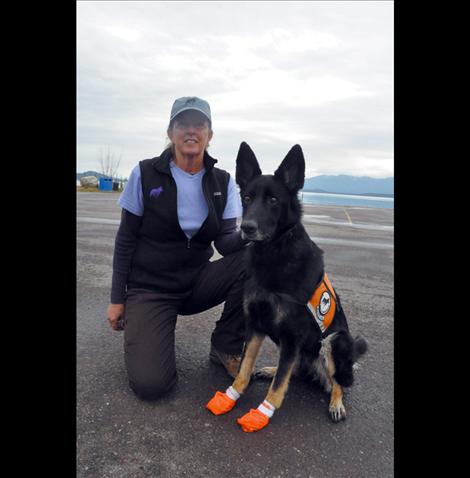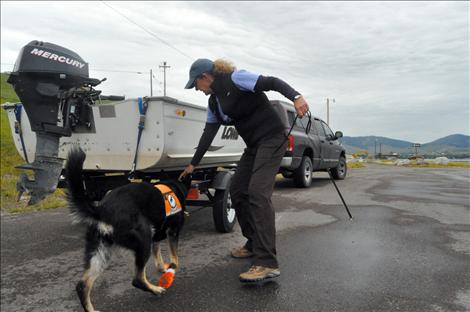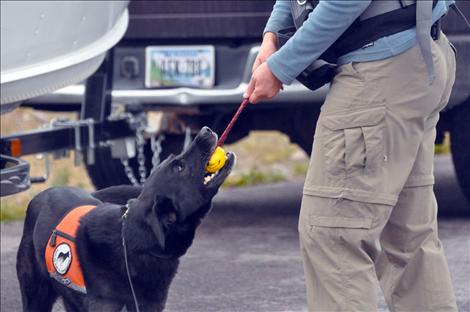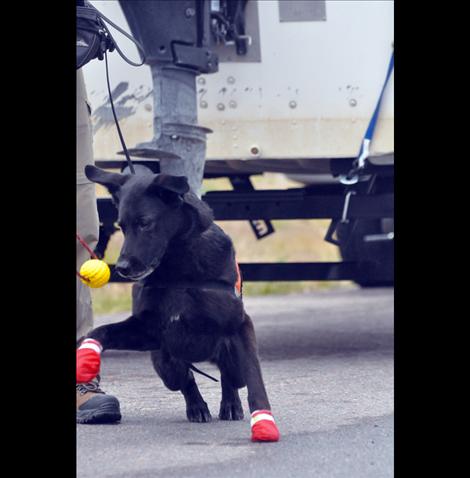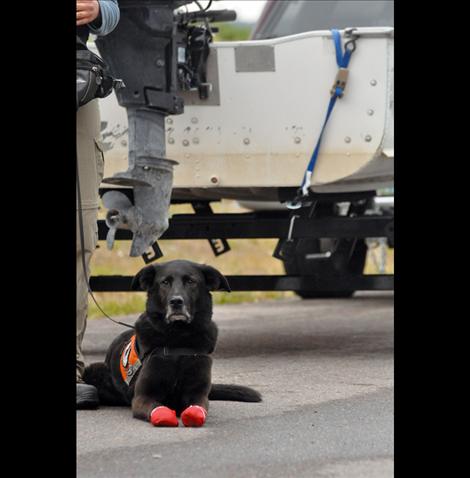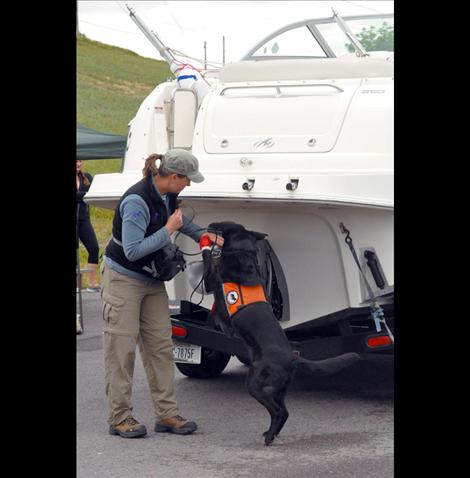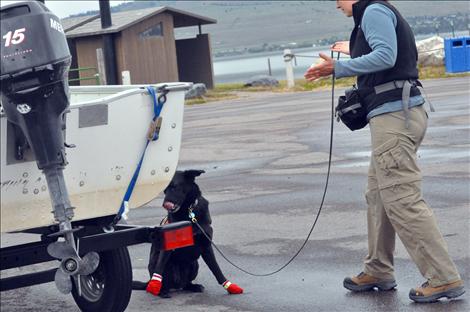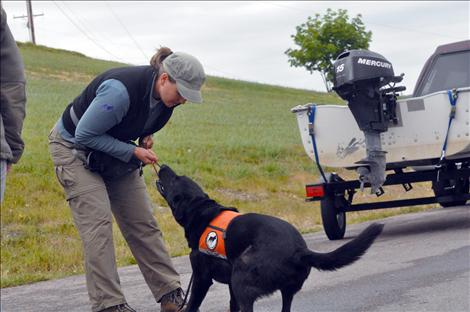 ‹
›
Forget iron-clad protection and a stoic disposition. This sentinel's armor is a fur coat and her protection routine is all a big game.
Tia, an 8-year-old German Shepherd, was one of four scent detection dogs brought to Flathead Lake last weekend to sniff out any quagga or zebra mussels hitchhiking their way into one of the state's cleanest water bodies via boats launching at Salish Point in Polson.
The canines will be stationed at several boat launches along Flathead Lake this summer as part of an internationally supported pilot project sponsored through a partnership between the Flathead Basin Commission, Montana Department of Natural Resources and Conservation, Working Dogs for Conservation, Lake County, the Confederated Salish and Kootenai Tribes and the Province of Alberta.
"We're hoping we can show that the dogs can provide value added above and beyond what we're already doing," Flathead Basin Commission Executive Director Caryn Miske said.
The state and the Flathead Basin Commission have launched a stringent offensive in recent years against aquatic invasive species by requiring all water-bound vessels in Montana to stop at a number of checkpoints across the state. At the checkpoints, human inspectors look for tiny parts of plant and animal material that could spell economic and ecological doom for Montana's watersheds if the vessel launches without first being decontaminated.
The programs have been successful to a degree, with 13 boats carrying invasive mussel species intercepted last summer, and 37 watercraft decontaminated that were carrying the non-native Eurasian watermilfoil plant species. But state workers have also said that some boats have made it all the way across the state to checkpoints in Idaho without target species being detected, showing a need for improvement.
Scent detection dogs are able to fill a gap left by the limits of human perception. People are somewhat crippled in their search for the aquatic invasives. The human eye can't detect all of the tiny pieces of plant and animal matter, or their larvae, but Tia's sharp nose can. Her handler takes her around the boat and she sniffs with all her might for the species. She jumps against the bow, with bright orange socks tied around her paws to prevent scratching the boat. She will sit and alert the handler if she finds something, but this weekend was pretty boring. No mussels were found.
Tia and her furry colleagues have traveled the world in the service of Working Dogs for Conservation, a nonprofit Montana group that trains dogs to recognize scents for conservation-themed goals around the globe.
Tia is adept at finding tiny targets. She's tracked down the grain-of-rice-sized scat of the endangered blunt-nosed leopard lizard and the larvae of beetles. Her friends have tracked bigger, but just as elusive wildlife, including bears, Asian forest elephants, and the world's rarest great ape species.
"All they want to do is work," said Alice Whitelaw, director of programs and a co-founder of the organization.
Work is a lot like fun for the canines that are given a toy ball to play with as a reward for finding the right scent. About one in 1,000 dogs has the potential to become a working dog, and almost all of the organization's recruits have come from shelters, Whitelaw said.
"They ended up in a shelter because they are kind of crazy," Whitelaw said. "They are very intense, highly focused and driven dogs, but they don't make good pets. The typical pet owner is not prepared to have this crazy dog that needs a job in their house because they often become neurotic and destructive."
Under the tutelage of a team of biologists turned handlers, the dogs are taught to recognize as many as 21 different scents and contribute to some of the world's most pressing environmental investigations.
Working Dogs for Conservation have detected brucellosis in bison and elk and illegal snares trying to catch threatened species. Some of the dogs will soon deploy to Zambia in an attempt to sniff out illegally harvested ivory and bushmeat.
Meanwhile, the nonprofit is happy to be working in its home state to deter the spread of invasives, Whitelaw said.
"This is a pilot project with the mussels, seeing if we can prevent them from spreading and we hope to have dogs deployed throughout Montana in the future," Whitelaw said.
People can make large donations earmarked specifically for Montana mussel detection, if they wish, Whitelaw said, or they can send in smaller donations that will fund the group's overall conservation work, she said.
The province of Alberta was a major financial backer to bring the canines to the Flathead Basin and Alberta this summer.
"We have to recognize that aquatic invasive species don't recognize international boundaries," said Cindy Sawchuk, representative for the environmental and sustainable resource development division of the province of Alberta. "Through international cooperation such as Montana and Alberta sharing a pilot project, everyone benefits. You learn a whole lot when people work collaboratively."
To learn more about how to contribute to the cause, visit www.flatheadbasincommission.org.