Fishing Without Barriers draws anglers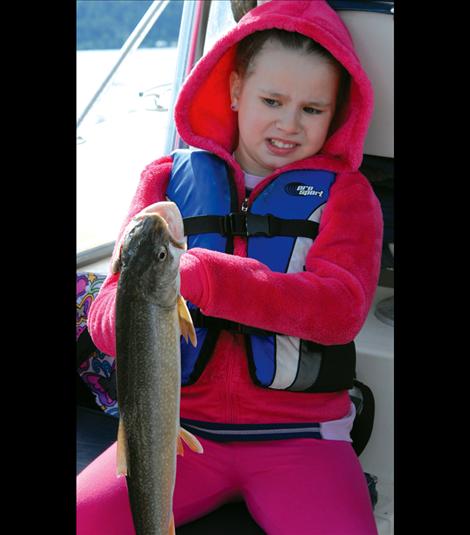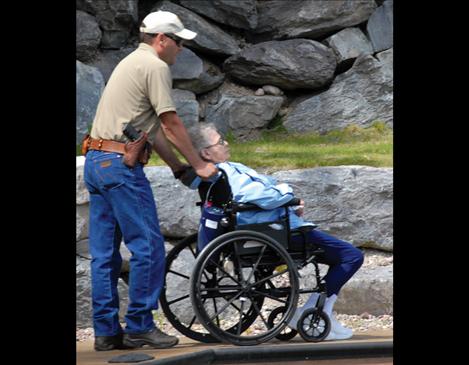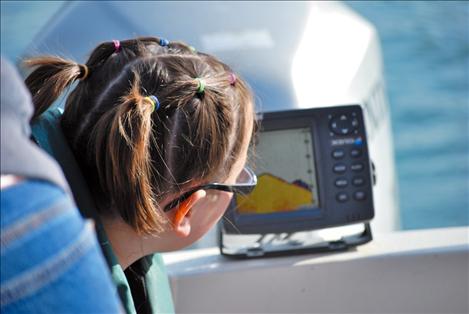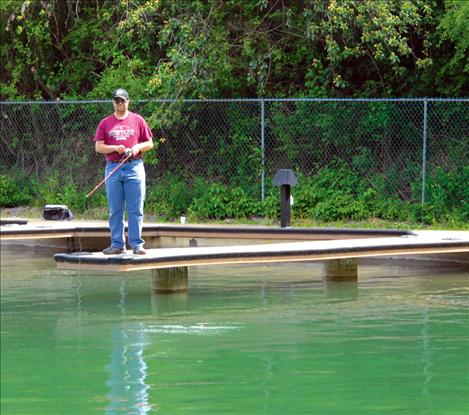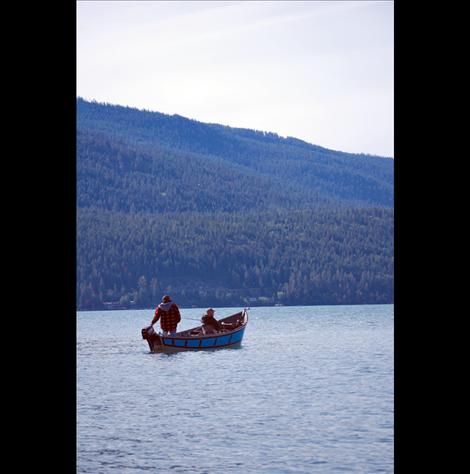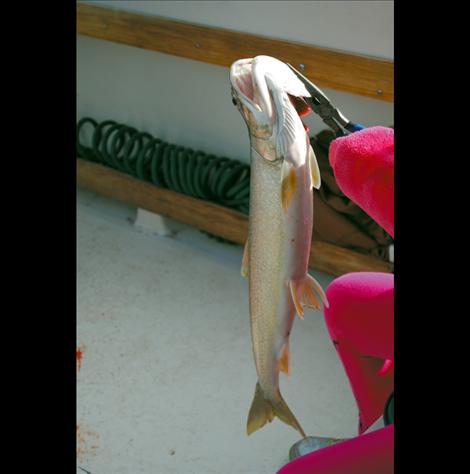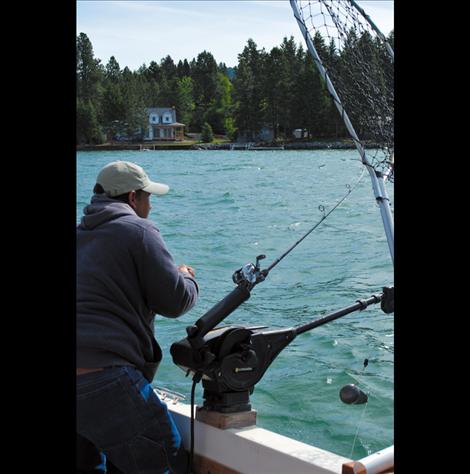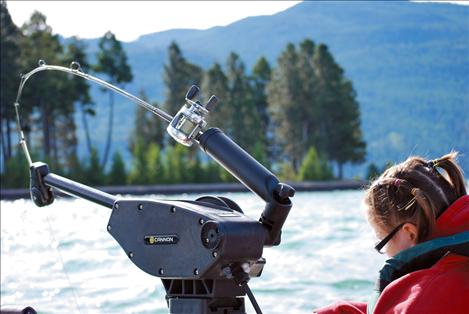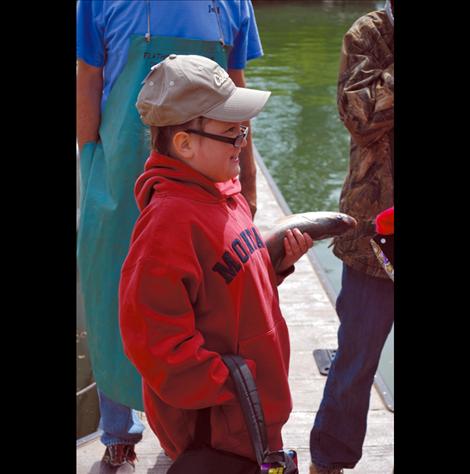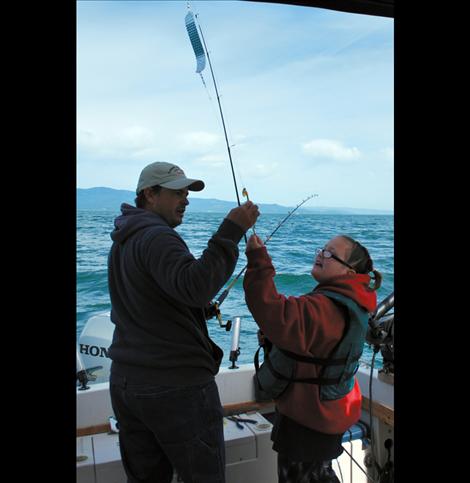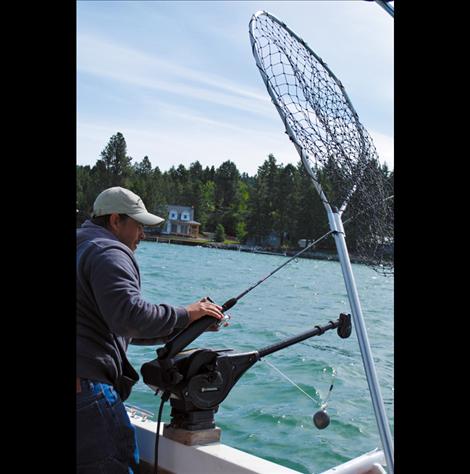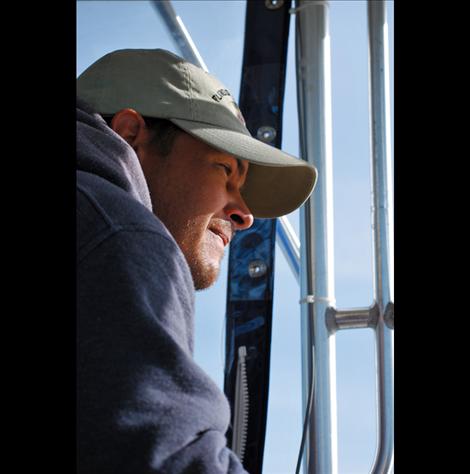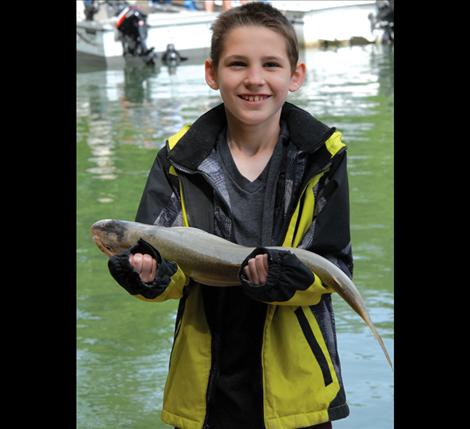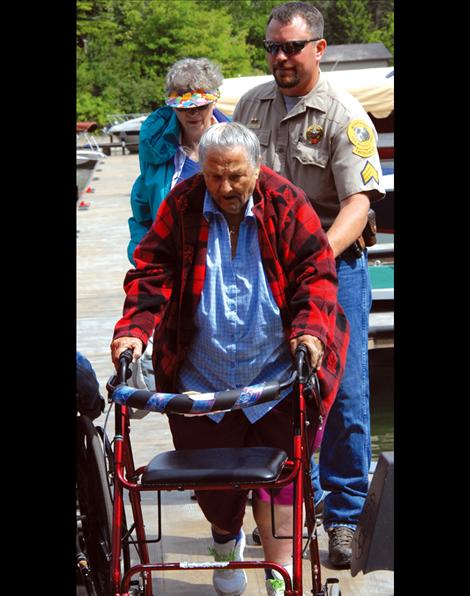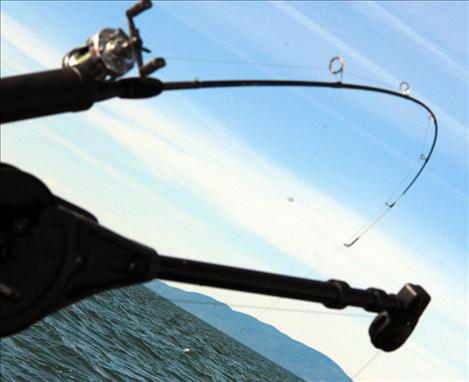 ‹
›
WOODS BAY — "I am not touching that fish," Brandee Reinsberg said. The fifth-grader had worked hard, reeling in the lake trout with the help of Stacy Ross, boat captain for Flathead Lake Charters, but she balked at touching the trout, nicknamed "Walter." Ross came up with a pair of pliers so Brandee could hold Walter for a picture.
Brandee, her sister Breanna and their mother Jeanne were participating in Fishing Without Barriers and learning from Ross, who fishes almost every day.
The boat launched at Hidden Harbor Marina in Woods Bay, and Ross showed Brandee, her sister Breanna and their mother Jeanne the device that measured water depth and showed fish as black blobs. Although the girls were grossed out by the baitfish, they followed Ross' directions and watched the fishing poles for "bites" and reeled in the lines.
Ross joined 16 other boats, 10 of which were charter boats, to make June 12 a special day for about 75 anglers.
Sponsored by Montana Fish, Wildlife and Parks, Fishing Without Barriers provides a chance for people with all manner of disabilities to enjoy a fishing trip on Flathead Lake with expert anglers. This was the program's 21st year, according to John Fraley, FWP Region 1 information and education officer.
"For some of them this is the only chance all year they get to be out on the lake," Fraley said.
Velma Duncan, a resident of Bee Hive Homes, an assisted living facility in Columbia Falls, wasn't fishing.
"I just enjoyed being out in the boat," Duncan said, smiling, as she was reunited with her walker at the dock.
FWP Game Wardens Chuck Bartos, Perry Brown, Ron Howell and Nathan Reiner were on hand to help people who use wheelchairs or walkers on and off the boats.
One lady was frightened that she might fall into the water in her wheelchair, but the wardens reassured her and gently lifted her out of the boat, telling her that one of them would be between her and the edge of the dock at all times.
A gentleman from Great Falls, diagnosed with Parkinson's, loves fishing; but his wife said she has problems pushing his wheelchair over grassy areas or rock.
"He's fished all his life," she said, so the couple made the trip to Woods Bay so he could fish again.
The boats returned to the marina for a post-fishing barbecue, according to Fraley, where about 200 people enjoyed a fish fry, games and music by Jeff Rach and the Badrock Canyon Band.
The anglers caught 15 lake trout, but had immeasurable fun.
Other folks who made Fishing Without Barriers possible were Barry Schrammeck, Diane and Randy Williams of Woods Bay RV Park and Campground. They provided the facility for the barbeque and celebration while Doug Averill and Jim Frissell allowed boats to launch at Hidden Harbor Marina, according to a press release from Fraley. Jerry Howard, chairman of the FWP Crossing the Barriers Committee, organized the food, donations, and other aspects of the event. He also baked 50 dozen chocolate chip cookies, which have become an event trademark. Dawn Marie assisted Jerry in fundraising, prize donations and record keeping.
The Game Wardens Association also sponsors Fishing Without Barriers, according to Bartos, Bigfork's game warden.