Mud Run fun to benefit Boys, Girls Club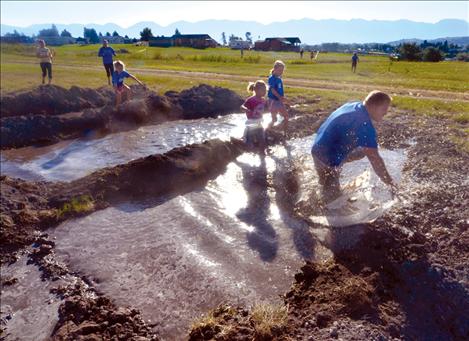 POLSON — Those who find a muddy obstacle course to be a great challenge on a Saturday morning can join the Boys and Girls Club 2nd annual Mud Run July 19 at the Polson Fairgrounds.
Those that don't can come and watch the hilarity as participants slog through mud pits, haul heavy tires uphill, climb hay bales and snake through chutes in the muddy rodeo grounds.
Participants can choose between a short 1-mile course "for kids and less inclined adults," according to the Mud Run poster, or the more challenging 5K-course for adults and "super brave kids."
Proceeds from the run go to the Boys and Girls Club of the Flathead Reservation and Lake County. Last year's inaugural run netted $3,000 for the club, and organizer Lowell Tyler hopes to double that amount this year.
Tyler volunteers at the Spartan obstacle race held each year in Bigfork; last year, Tyler decided to organize a similar race in Polson.
"Most of my inspiration came from the Spartan race, which is a more athletically-fit technical course with obstacles that are more difficult," Tyler explained.
Some new obstacles are in the works this year, including paddling in an inner tube, a rope swing traversing mud pits, and an archery station.
"If they don't hit the target with one arrow, then they have to do a different obstacle," Tyler said.
Participants are strongly encouraged to register before race day online at www.flatheadbgc.org to be sure to get a t-shirt the day of the race.
Pre-registration is $35 for adults, $5 for youngsters 12 and under. Race day registration is $40 for adults and $20 for youngsters 12 and under.
Runners start in groups, with the first wave going at 9 a.m.
Come dressed in clothing that can take a mud slinging and join the fun.
For more information call (406) 676-5437, (406) 883-5623 or go to www.flatheadbgc.org.