Local girl works around sight impairment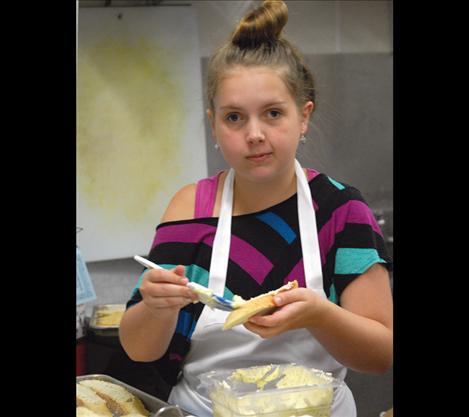 FINLEY POINT — Buttering split loaves of bread and sprinkling them with parmesan cheese, Mikayla Ellerman was hard at work in the kitchen at the Finley Point Grill.
A rising junior at the Montana School for the Deaf and Blind in Great Falls, she has a career as a pastry chef in mind, even though she is legally blind.
Mikayla calls it "visually impaired." According to Shelley Ellerman, Mikayla's mother, Mikayla had grown tumors on the nerves in both of her eyes when she was 6 years old. They first noticed it when Mikayla asked why everything was suddenly black and white.
After chemotherapy and radiation, Mikayla recovered but still does not see well.
"To read (a book) it needs to be right up in her face and she has to use magnifiers," Shelley said.
Mikayla does many things by touch and memorization, Shelley said, such as recipes. She has a phenomenal memory. If the recipe is written down, it's written really big. Measuring cups need big lines, and ingredients in the same kind of containers can be marked with Braille labels or a rubber band around one and a piece of tape on another. For pastry, the feel of the flour and shortening give clues to blind people.
"The Montana School for the Blind and Deaf has taken a child who was a sad introvert and she has prospered and is awesome," Shelley said.
"It's hard living away from home," Mikayla said. Yet Mikayla and her mom both saw a dramatic change. "I was really courageous before, but (the MSDB) helped me be more courageous."
"She's pretty positive," Shelley said, although she said Mikayla didn't have that kind of confidence before the MSBD. There the kids are given mobility training as well as other training.
For instance, Mikayla hiked the two miles to the zipline in Whitefish alone and rode it down.
Mikayla hasn't let her visual impairment slow her down regarding a career choice.
She's worked at the Finley Point Grill for about a month and a half and loves it. A few of her duties are to peel shrimp; make the restaurant's famous balsamic vinaigrette sauce; whip up tartar and horseradish sauces; and package the meat for burgers so it's easy for the chef to just grab the amount of patties he or she needs.
On Sundays, the Finley Point Grill has a breakfast bar and Mikayla prepares bear claws; crepes; raspberry tarts and cinnamon rolls and makes sure there are plenty of the pastries on the bar for customers.
Mikayla decided on becoming a pastry chef because "When I was younger, I really liked to cook."
Sean Perry, manager at Finley Point Grill, said the restaurant hired Mikayla to prep the nightly food and she's a good worker.
Mostly Mikayla works with Toni Fraley, one of the grill's kitchen managers. Sometimes Toni and her husband Bill, give Mikayla a ride to work and her mom gives her a ride on weekends.
Toni said Mikayla does whatever she is asked and does it very efficiently. She's also punctual and the restaurant plans to bring Mikayla back next summer.
During the last school year Mikayla took some culinary classes at Great Falls and would like to attend Cordon Bleu in Seattle, but she may go to the University of Montana because it also has a good reputation and costs about half as much.
Mikayla has lived at the MSBD for three years and she's excited because this year she gets her own apartment.
As far as food, "I like a spaghetti carbonara. My dad puts in just a hint of white wine," Mikayla said, although … "I'm a sweet tooth person instead of savory kind of person."
And her favorite dessert is a triple chocolate cheesecake.
"I know that recipe by heart," she said, grinning.