Articles Written By: Nicole Tavenner
Lovely Lavender ...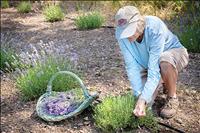 It's been a bountiful lavender harvest this July for local grower Eileen Neill, owner of Spotted Bear Vineyards and Lavender Farm on Finley Point.
Valley View celebrates
During Thursday's Valley View Elementary School Christmas program, "snowflakes" sing, right, and Kena Sutton-Jones, above, draws the winning ticket for a Dewalt drill bit set. Jaspin Fischer, not pictured, won a Tumbler Remote Truck in the fundraising raffle for a new walking path at the ru...
Elmo powwow
The 39th annual Elmo Powwow was a canopy full of colors under the summer blue skies this past weekend. Unlike last year's heat wave and restricted fire ordinance, families and friends gathered around campfires and let sparks fly freely through the chillly night air. Participants and spectators alike en...