Articles with the Tag: Arlee rodeo
Arlee Rodeo brings fast-paced action to Mission Valley
ARLEE – The excitement began as the chutes flew open at the 39th Annual Fourth of July Rodeo at the Arlee Rodeo Grounds on Thursday. Rodeo fans were kept on the edge of their seats as they watched local cowboys and cowgirls compete to see who could hang on the longest during the high-flying action o...
Arlee Rodeo catapults riders into the air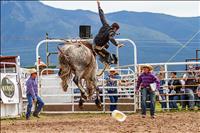 ARLEE – Nothing says Fourth of July like whoopin' it up at the legendary Arlee Rodeo. Since 1982, the Arlee Rodeo has been entertaining fans year after year with fast paced, high-energy rodeo action and this year's show was no exception. "The weather was good and the stock bucke...