Articles with the Tag: Boettcher Park
City commission approves budget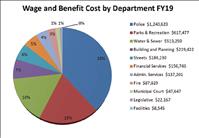 POLSON–The Polson City Commission voted unanimously to approve at $17.32 million budget for the upcoming 2018-2019 fiscal year at the Sept. 5 meeting. According to the budget, the city's total estimated revenue for the fiscal year will be $16,269,907. The city's budget allows for $...
Commission votes to remove Boardwalk Outdoor Cafe
POLSON – Starting this summer, a new city-run concessions operation will replace a family restaurant in Boettcher Park. The Boardwalk Outdoor Café, which has provided food to visitors at Boettcher Park for several years, will be shut down. On April 16 the Polson City Commission voted four to one...