Articles with the Tag: Festival of Peace
Festival celebrates diverse messages of peace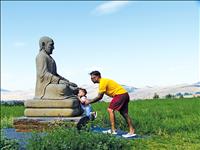 ARLEE — Families wandered quietly under a blue sky between 1,000 white Buddha statues on their way into the 14th Annual Festival of Peace on Sunday. The event, held at the Ewam Garden of 1,000 Buddhas, drew visitors, vendors, and presenters from across the region. Claudette Carlson, a...
Celebrating peace, expansion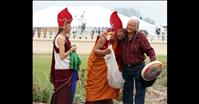 ARLEE – Four boys started counting the 2-foot-tall Buddha statues lined up back to back on the eight-spoke dharma wheel during the 11th Annual Festival of Peace at the Ewam School of Tibetan Buddhism on Saturday. "I got 74 on this side counting the ones on the ends," said River Adk...