Articles with the Tag: Glacier View School
Soup competition helps food pantries
RONAN – Glacier View Seventh-day Adventist Church broke all records when they raised 7,951 cans of soup during their 10th annual Souper Bowl. The soup was divided equally between the Ronan Bread Basket and the Polson Loaves and Fish Food Pantry. Quoting a letter of appreciation from the Bread ...
Students salute area veterans for their service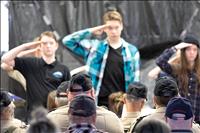 RONAN – Glacier View School students gathered together on Thursday afternoon to pay special tribute to the women and men who served in the armed forces. The students worked hard for weeks in preparation for their annual celebration by decorating the school with thank-you messages and rehearsin...