Articles with the Tag: Grizzly Bear
Experts share bear confrontation information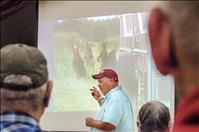 ARLEE – An angry grizzly bear lowers its head and starts charging in your direction - what should you do? The Confederated Salish and Kootenai Tribes paired up with the nonprofit conservation group People and Carnivores during an informational meeting Aug. 28 at the Arlee Community Center to h...
Grizzly bears killed on Highway 93
News from CSKT Division of Fish, Wildlife, Recreation and Conservation PABLO — Tribal bear biologists say that three of four members in a family group of grizzly bears were struck and killed by an automobile around 11 p.m. on Friday, July 27, approximately a mile south of Ronan. The collision incl...