Articles with the Tag: Jocko Valley Library
Briefs for April 26, 2017
Wiggle on the weekend POLSON — North Lake County Public Library will host a new program called "Weekend Wigglers," featuring books, crafts, games, and fun for all. This one-hour activity for school-aged kids will be held every other Saturday from 2-3 p.m. in the libr...
Treats bring funds for youth programs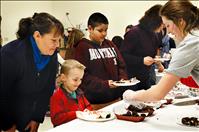 ARLEE – A few crumbs were the only things left of the chocolate-chip cookies soon after the 13th annual Chocolate Lover's Festival began on Wednesday, Feb. 8, despite a winter storm and icy roads outside. Eighteen donated chocolate creations were on several long tables in the Brown Building. A...