Articles with the Tag: Live History Days
'Live History Days' event links today with yesterday
POLSON — Enjoy the 30th annual "Live History Days" celebration and fundraiser at the Miracle of America Museum, 36094 Memory Lane, on July 21 and 22. There will be all kinds of activities and demonstrations including: music, blacksmithing, a flint knapper, a sawmill, schoolhouse activities,...
Miracle of America Museum brings history to life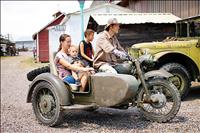 Hundreds came to see history in action at the Miracle of America Museum's 28th annual Live History days held July 14 and 15. Machinery of all kinds was operating for the event. Volunteers gave rides in retired military vehicles, kids of all ages fired a mounted rifle repurposed as a tennis bal...