Articles with the Tag: Mission Valley Rockies
Sports shorts for June 27, 2018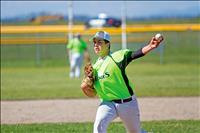 Baseball On Sunday, Mission Valley Rockies hosted Helena and the Clark Fork Cougs. The game against Helena was initially schedule for Saturday but was cancelled due to rain. Helena defeated the Rockies 21-11 and in the second game against Clark Fork the Cougs outscored the Rockies 21-4. The Missio...
Sports Shots for June 20, 2018
Tennis The Montana Coaches Association has announced that Polson High School tennis coach Bob Hislop has been voted by MCA members as MCA Tennis Coach of the Year. Hislop will be honored at the MCA All-Sport Coaches Clinic on Aug. 2nd in Great Falls during the MCA Awards Program. ...