Articles with the Tag: Polson Fire Department
Scouts, volunteers collect a ton of food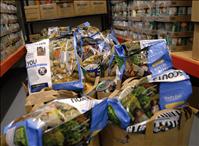 POLSON — A mountain of canned goods and non-perishable items, more than a ton of food appeared at the Polson Loaves and Fish Food Pantry, all thanks to the Boy Scout Troop 1945 from the Church of Latter Day Saints. On Dec. 3, Scout Master Tara Carvey and scouts left plastic grocery bags wishin...
Fireworks threaten Polson homes
POLSON — Fireworks caused a 5.5-acre fire near Polson hill on July 31 at about 7:30 p.m. With 10 to 20-foot-high flames subsiding to a five to six foot blaze, the fire burned up the dry grassy hill, but was stopped when it reached Long Lake Drive. Law enforcement had contacted residents in ...