Articles with the Tag: Rodeo
Dedication, attitude, skill put locals in top competition
Abby Knight, Wyatt Lytton and Will Powell are headed to Rock Springs, Wyo. for the 65th annual National High School Finals Rodeo this week after exceptional performances at the state level. Knight placed first in pole bending and fourth in barrel racing. Lytton placed second in calf roping. Powell placed fir...
Arlee rodeo draws many contestants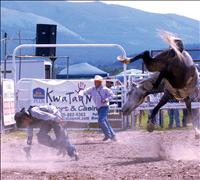 ARLEE — Arlee was a busy town on the Fourth of July, beginning with the Firemen's Pancake Breakfast, the parade at noon, the first grand entry at the 115th Annual Arlee Celebration at 2 p.m., the 3-on-3 basketball tournament and the 31st Annual Arlee Fourth of July open rodeo. The rodeo ...