Articles with the Tag: Ronan Cooperative Brewery
Cooperative brewery gets loan for construction
Valley Journal RONAN – A brewery being developed by volunteers to bring the community together is one step closer to opening for regular business. On Friday, Ronan Cooperative Brewery developers held a homebrew tasting and fundraiser event. It wasn't a brew created at the shop, just y...
Ronan Cooperative Brewery finds downtown home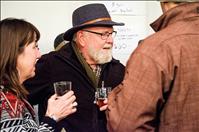 The doors opened for a short time on Montana's first cooperative brewery during the evening of Friday, Dec. 21, allowing people to see the space before renovations begin. The Ronan Cooperative Brewery has found a home at 400 Main Street in the back section of a large two-story building that was once...