Articles with the Tag: Salish Kootenai College
SKC professor, students part of Mars Rover team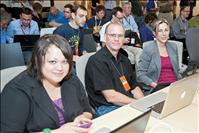 PABLO — Mars, the red planet, and Western Montana are literally worlds apart, but Dr. Tim Olson, a Salish Kootenai College physics professor, and two of his students, Noel Stewart, Browning, and Judy Hudgins, Ronan, are helping bridge the gap. They are at the National Aeronautic and Space Administratio...
Altered grades changed, school begins Oct. 1
PABLO — Grades were changed back to the way they were originally issued by the instructor of record after a several months of investigation into altered grades at Salish Kootenai College. The marks for "13 students had been raised to allow them to enter the nursing program," according to Sa...