Articles with the Tag: Salish Kootenai Housing Authority
Trail of Bales decorates Ronan, surrounding areas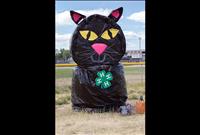 RONAN – Ninety hay bales are being transformed into magical creations of all kinds along U.S. Highway 93 and surrounding areas for the annual Trail of Bales contest, which involves turning a round bale into something grand. Last year, the Salish Kootenai Housing Authority took first place in the con...
Tribal Housing waiting list grows because of meth contamination
PABLO — More than half of the housing units tested by Salish Kootenai Housing Authority in the past 18 months have had some sort of detectable methamphetamine contamination, creating skyrocketing cost burdens for the organization and highlighting a potential health hazard in the community. Exe...