Articles with the Tag: Soccer
U16 girls soccer picks up speed
The Polson U16 girls soccer team traveled to Livingston last weekend to play Laurel and Livingston. Laurel is ranked first in the U16 select division, and Polson tied them 2-2. Libby Lichte scored with an assist from Sarah Howell, and Howell scored the second goal unassisted. Livingston is ...
PHS star to play college soccer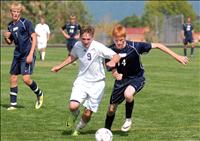 POLSON — Sporting a red and white St. Mary's University of Minnesota jersey, Polson soccer standout James Larson signed his letter of intent to play for SMU on April 25. Larson, son of Lauren and Tom Lipko and the late Joe Larson, has been an all-Montana soccer player for the last two years. St. ...