Articles with the Tag: St. Ignatius police
Town clerk retires after almost four decades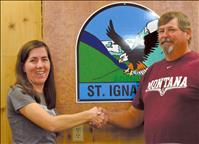 ST. IGNATIUS – Mary Leishman was appointed as the new clerk during the town council meeting on Tuesday. After 38 years, Lee Ann Gottfried retired from the position, although she isn't completely finished with the job. The council voted to hire Gottfried as a deputy clerk to fill in and answer que...
Juvenile offenders becoming more violent
ST. IGNATIUS — Perhaps the most disturbing trend Barbara Monaco has seen over the past 30 years is youthful offenders becoming more violent. Monaco, who is the chief juvenile probation officer for Lake and Sanders Counties, addressed the St. Ignatius Neighborhood Watch group Tuesday, Aug. 18. ...