Articles with the Tag: monkeypox
Monkeypox arrives in Lake County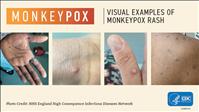 LAKE COUNTY — Public health officials announced last week that a Lake County adult has a probable case of monkeypox – the third diagnosed in Montana. The first case was reported in early August in Flathead County, followed by a second in Gallatin County. As of last Friday, the Centers for Disease...
DPHHS announces first confirmed case of Monkeypox in Montana
News from DPHHS FLATHEAD COUNTY — The Department of Public Health and Human Services (DPHHS) and Flathead City-County Health Department today confirmed a single presumptive case of monkeypox virus infection in a Flathead County adult. Initial testing was completed August 5, 2022, at the Montana...