Dog problems at top of councils' agendas, but solutions unclear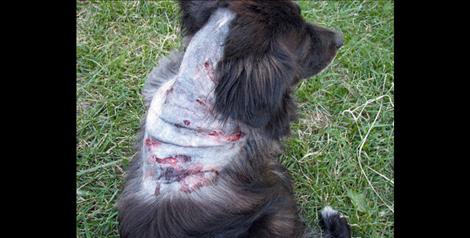 ST. IGNATIUS – Beautiful mountains and a bustling small town are the backdrop of Bea Eder's 4-mile walk around St. Ignatius every day, but the picturesque scene is all but serene when Eder factors in having to pick a route that isn't obstructed by free-roaming dogs that often show signs of aggression.
Last week, St. Ignatius Town Council and Ronan City Council continued an ongoing discussion of how to deal with dogs at large in their jurisdictions, though both groups have more obstacles to finding a solution than plans to make the problem go away.
Eder sent the St. Ignatius Town Council a letter, detailing a Feb.19 incident in which she was walking her dog, Molly, along First Avenue. Another dog rushed from the alley, as if to attack. Eder ended up eating concrete in the exchange. Her lip and hands were bloodied, and her knee was badly bruised. Two weeks later, the damage was finally close to disappearing.
Encountering aggressive dogs on the street has been an ongoing problem for Eder and other town residents. She said she likes dogs, and doesn't mind places like Third Avenue, where most yards have barking dogs that are fenced. But in other parts of towns, canines run amok.
"Second (Avenue) is pit bull alley," Eder said. "I don't even go there."
Eder's dog Molly is skittish around other dogs because of a 2010 incident where the border collie mix was attacked by a pit bull on Second Avenue. Molly's vet bills were $183.01.
"If (these were) isolated instances, they could be forgotten, but this has been repeated over and over again in the years I've lived here," Eder wrote in her letter to the council. She recounted incidents where her son was bitten in 1982 and the town's police chief was attacked in 2013.
"All they do is put a band aid on the problem, and then it's a problem again," Eder said.
Councilmembers have been trying to find whatever remedy they can for the issue, but limited resources make the task difficult. In St. Ignatius, Mayor Charley Gariepy tried to talk, to no avail, with the owner of the dog that scared Eder. The town is currently without a police chief.
"It's that same thing," Gariepy said. "Hopefully we can hire a new chief of police and set him down and tell him this is what we want done. We want the ordinances enforced … I talked to the owner of the dog and to put it bluntly, I was told where I could shove it."
At issue is a lack of uniform laws for county, city, and tribal citizens in regard to vicious animals. Authorities say they have tried for more than a decade to get the judicial and law enforcement entities on the same page, but it has not happened yet.
Ronan City Council has also spent much of the past year exploring options on tackling dog problems, but at a March 2 meeting the progress report on the issue was bleak.
"The basic problem of trying to get anything done is funding it, number one," City Attorney Kathleen O'Rourke Mullins said. "We can't find any veterinarians who will do this for free, which I don't blame them. So we have to have somewhere to put dogs if we are going to start picking up dogs, but we don't have any funds to do that. We can't make any funds until we start ticketing people, but as the chief pointed out to me, a large portion of those dogs don't have collars and can't be identified … It's kind of like the chicken and the egg."
Both councils said they would continue working on the problem. St. Ignatius Town Attorney James Lapotka said he is currently prosecuting one person for eight dog ordinance violations, so in some instances the issue is being handled.