Local men take advantage of window of opportunity
New glass shop open in city's old railroad district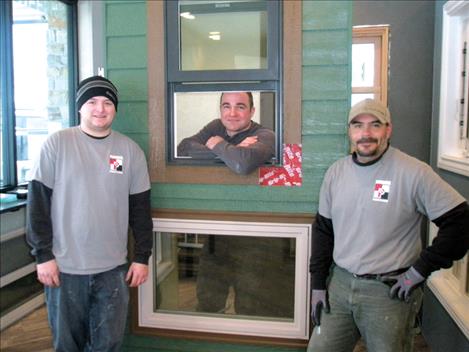 POLSON — When a door opens, go through it. If the door closes, go through a window, or something like that.
Polson natives Aaron Purser and Mason Lagerquist saw such an opportunity after two glass shops closed as a result of the Great Recession, Purser said, and decided to take advantage of it.
The men purchased a property formerly known as Northern Propane Co. at 202 Seventh Ave. East last year. After an extensive remodel, Pioneer Window & Door opened in September.
The men have both worked in construction for a number of years – Purser has done tile work since 2001 while Lagerquist has been involved with masonry work since 1996.
Purser said that construction is one of Polson's main industries, and the men believe that a retail glass shop with good customer service would fit well.
He calls Pioneer Window & Door a "one-stop shop" for residential customers, noting the company cuts glass and installs their products.
The business sells Milgard windows and doors, high-quality products that Purser said they selected because they include a lifetime warranty and didn't have a local distributor.
"We partnered with them because of their reputation," he said.
In addition to windows and doors, Pioneer offers a variety of vinyl and fiberglass window frames and Cardinal shower doors.
"We pride ourselves on our old-fashioned service and treating people like we want to be treated," Purser said.
He noted that the business tries to be "as green as we can." It has used windows and doors on hand that one might use in a barn, shed or greenhouse, for example.
"We try to keep things out of the landfills," he said, adding that the closest Habitat ReStore, nonprofit home improvement stores and donation centers run by Habitat for Humanity, is in Kalispell.
Pioneer Window & Door offers free, no obligation quotes. They can be reached at 406-883-5511 or online at polsonglass. com.