Old World Deli moves to Lake Bar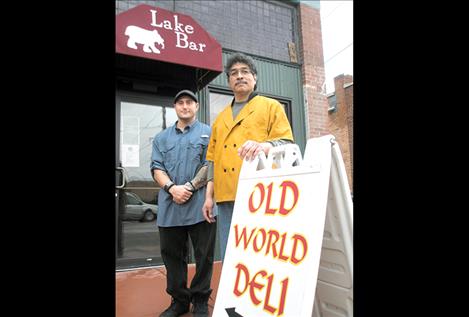 POLSON — Two men who worked together through the years have teamed up again.
Guy Hill, owner of Old World Deli, recently moved to the Lake Bar at 49494 US 93 in downtown Polson.
Hill said he worked with Lake Bar manager Sean Perry when both were at Ricciardi's and Finley Point Grill. That was prior to Hill purchasing Old World Deli behind First Interstate Bank four and a half years ago.
The bar, which previously only served food beginning at 4 p.m., now offers Old World Deli's hot and cold sandwiches, soups and salads from 11 a.m. to 3 p.m., Monday through Friday, with plans to add Saturday beginning in May.
Hill, who moved to the area in 1996 from Philadelphia after growing up in Rochester, New York, loves cooking.
"I've been in the kitchen since I was 15," said the man with Salish roots who moved to the area where his mother lived.
He developed a loyal following in his old location, but wanted more visibility, he said.
"He has really great food and a good following already," Perry said.
Hill has added a chicken parmesan sandwich and French fries to the Old World Deli menu, along with an eggplant parmesan and a spaghetti dish.
The Lake Bar and Old World Deli also offer catering with the Lake Bar offering the services of 101 Main, whose food it serves Wednesday through Saturday beginning at 4 p.m.
Perry, a Spokane native who has worked in the area for 11 years, said he is in the process of buying the Lake Bar and 101 Main from Dale Gillespie, who owns the building where the businesses are located.