Locals to compete at National Finals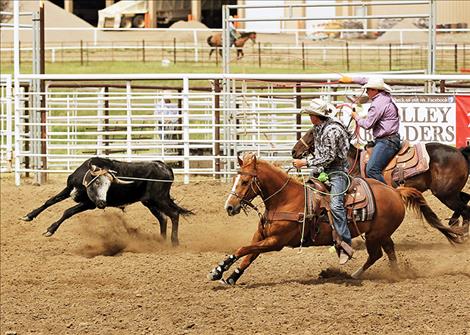 BAKER – From team roping to pole bending, cowboys and cowgirls from across the Mission Valley left it all in the arena for one more chance to show off their skills at the Montana High School Finals Rodeo in Baker June 8-10.
Third generation cowboy and Ronan senior, Tyler Houle brought home a fourth place in steer wrestling.
Kayla Blixt, a sophomore at Polson, just started rodeoing this spring and had earned enough points to advance to state. Blixt finished in the top 50 in the breakaway.
Senior Rachel Lien of Ronan finished 27th in the breakaway, 12th in goat tying and 11th in pole bending.
Charlo junior Hallie Sohr finished just outside the top 10 in the breakaway with an 11th place finish and placed 23rd in the barrels.
In team roping, Willy Lytton and Taylor Harris roped a sixth-place finish, team Kane McAllister and Zane Walchuck finished 20th and team Levi McClure and Houle placed 27th.
McClure tied up a 17th place finish in the tie down and Lytton finished 27th.
Lytton's horse "Duke" was named Montana High School Finals Rodeo and AQHA Horse of the Year.
Lytton also competed in the shooting sports in which he won the state championship in the .22 rifle event and placed third in the trap.
By placing in the top four in their respective events, Houle and Lytton earned a berth at the National High School Rodeo Finals July 16-22 in Gillette, Wyoming.