Man charged in woman's death after she allegedly jumped from SUV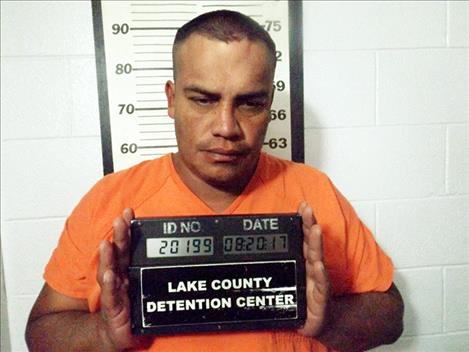 POLSON – A 39-year-old Ronan man has been charged with two counts of criminal endangerment related to a woman's death on Aug. 20.
Roland James Brown was arrested and charged following an alleged drunk driving incident.
According to a court document, Brown drove a woman's burgundy Jeep sport utility vehicle from Ronan to a Hot Springs bar on Aug. 20 while consuming alcohol.
The two women who were passengers in the vehicle got into an argument with a bartender about beers brought with them and the bartender kicked them out, a court document states. Brown then drove the Jeep to St. Ignatius where he turned right onto East Post Creek Road.
According to the woman passenger who owns the vehicle, Brown was driving "really crazy," was mad at the other passenger, Jessie Qualtier, and called her names. The owner told law enforcement that Brown was driving around 90 mph and was jerking the vehicle.
The owner, who was sitting in the front passenger seat, told Brown to stop, and when he slowed the vehicle after turning onto East Post Creek Road, she jumped out but wasn't injured. She went to the nearest residence but no one was home. When she returned to the road she said she saw Brown holding Qualtier's body by the road attempting CPR, the court document states.
Qualtier was sitting in the rear of the vehicle behind Brown, and he said he was slowing down when he realized Qualtier was gone and had jumped out of the vehicle, according to the court document.
He turned the Jeep around and found Qualtier unconscious on the side of the road and attempted CPR until law enforcement arrived, the court document states.
Qualtier was bleeding and was later pronounced dead. A coroner's report was not complete at the time charges were filed.
Police found numerous beers and a Black Velvet whiskey bottle in the vehicle and some liquid on a seat.
According to a court document, Qualtier texted a friend at 5:33 p.m. the night of the incident and said they were in Ravalli. "Will you call the cops .... RJ is driving tryna kill us," she said. Qualtier also said that Brown had blacked out, was driving over 100 mph and had splashed Black Velvet all over her.
Brown admitted that he had been going between 83 and 85 mph near Perma and that the passengers had asked him to slow down, the court document states.
As of Sept. 4, he was being held in Lake County Jail on a $50,000 bond. The Lake County Attorney's Office is seeking to revoke two of Brown's sentences. He was in court Aug. 31 but those cases were continued to Sept. 14.
Brown received a combined three-year deferred sentenced on April 20 for criminal possession of dangerous drugs (methamphetamine) and bail jumping. A third charge of assault with a weapon was dismissed as part of a plea agreement. In the latter case, Brown had allegedly pulled a derringer handgun on a man in the parking lot of Wilson Foods in Pablo on Sept. 3, 2015. The derringer was later recovered from Brown's pocket.