Aber Day Reunion headed back to Polson, commissioner says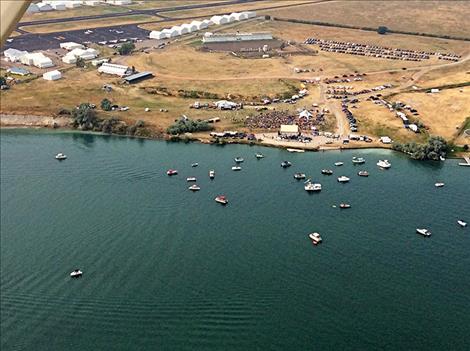 POLSON – Polson should be hosting the Aber Day Reunion concert for one more year.
That's the word from Lake County Commissioner Bill Barron, who spoke to the Lake County Pachyderm Club on Friday about the Aug. 12 Aber Day Reunion.
He talked about the permanent stage that was built on the grounds of the Regatta Shoreline Amphitheater in the two weeks prior to the event.
Barron noted that a number of people stepped forward to contribute to the project. The county chipped in $15,000, donated 20 truckloads of gravel and supplied road and bridge crews, while Mark Giacoletto, Eric Huffine and Dennis Anderson were some of the others who helped.
The Aber Day Reunion concerts were originally scheduled to run for five years, and the final year should also be in Polson, he said, noting it's not finalized yet.
The reunion had been held in Phillipsburg the first three years, he said, but noted they couldn't host it this year due to that city's 150th anniversary celebration.
Building the stage on such short notice wasn't easy.
"It was difficult," he said, but worth doing because of the future use the county will get from it. "It's very, very well built," he said, noting the concrete foundation could hold a three-story building.
He said that concern among some float plane owners about the stage interfering with landings was his fault due to a lack of communication. However it turned out not to be a problem. "Float planes landed there (on the South Fork of the Flathead River) the night before the concert," Barron said.
Electrical hookups for the stage will be finished in the near future, he said, noting that Mission Valley Power will be installing a 400-amp box on top of the stage.
For every dollar spent on the fairgrounds, the area receives a return of $12 to $68, he said, adding that it can attract 500-3,500 people on a weekend.
He estimated that about 2,000 people attended the event, and noted that the Flathead Lake Blues Festival was held there Aug. 18-19.
"I think it's really going to kick off the fairgrounds here in Polson," he said.