Local teen wins gift card for getting vaccines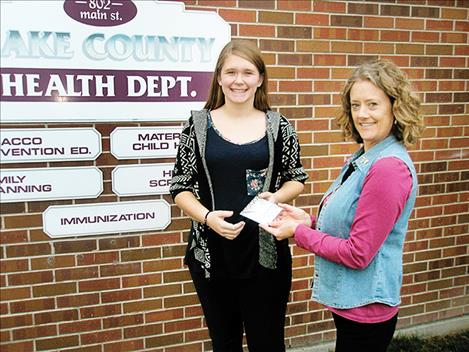 POLSON — Fourteen-year-old Alexis Terry recently won a $50 Amazon gift card for having her vaccines up to date.
Terry, a freshman at Mission Valley Christian Academy, qualified for the TeenVax Challenge award by getting shots for Tdap (tetanus, diphtheria and pertussis/whooping cough), MCV4 (meningococcal virus) and HPV (human papillomavirus).
The first shot, which is required, is a booster that follows up on five doses children are required to get prior to kindergarten.
The MCV4 and HPV vaccines are voluntary.
They are recommended for adolescents by the federal Advisory Committee on Immunization Practices said Leigh Estvold, a registered nurse at Lake County Public Health Department.
The MCV4 vaccine is meant to protect against the meningococcal virus, which can cause brain and spinal disease. The immune-compromised are at the highest risk, she said.
Terry was one of 38 winners statewide in a competition sponsored by the state Department of Public Health and Human Services' immunization program, the Montana chapter of the American Academy of Pediatrics, the Montana Academy of Family Physicians and the Blue Cross/Blue Shield of Montana's Care Van program.
Conner Koenig was Lake County's gift card winner last year, which was the first year of the TeenVax Challenge, Estvold said.