Skater's memory to be honored at skate park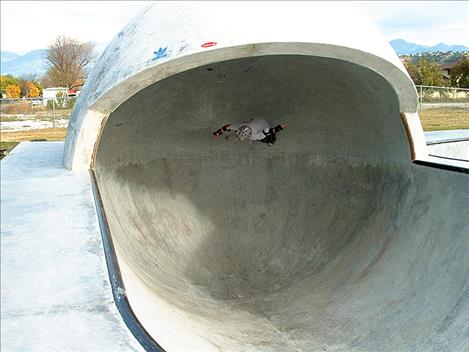 POLSON – The Polson Skate Park expansion project has taken a new turn with the tragic death of a local skater.
Cameron Roullier, 18, was out hiking in nature in early May when an accident occurred that took his life. Friends said he was lost while doing what any free spirit might be doing while not skateboarding or snowboarding.
Cameron's loss inspired a reflection on life and the close friendships found at the Polson Skate Park. It was during that reflection that friends decided to create a memorial in his honor.
It is through his memory and respect for the Roullier family that Skate Park volunteers announce the naming of "Cameron's Corner" to the current expansion plans for the park.
Cameron's Corner will include part of the course known as the hip and sub box and is estimated to cost $20,000. The entire expansion project is projected to cost about $222,000 and will include an a-frame, manual pads, box jump, ledge section, and down rails. Volunteers have already raised $52,000.
The plan is to expand the park to provide all ages and skill levels with an opportunity to advance at their own pace, according to volunteers. The new project will merge phases one and two and create a wide variety of options for all styles of riding.
For more information about sponsoring a specific feature or obstacle of the expansion plan, contact Polson Skatepark on Facebook or find information at Polson City Hall at 406-883-8214.
Businesses or groups can become a permanent part of the Polson Skate Park by donating to the project. To view expansion plans, visit the www.polsonskatepark.com.