Local gymnasts ready for state competition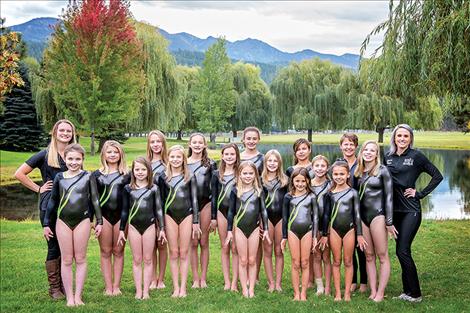 POLSON – Another state championship has arrived for the Mission Valley athletic landscape this weekend. The Osprey gymnastics team will represent the valley during the 2019 Montana State Gymnastics Championships. The team is scheduled to compete in Helena on the Carol College campus on Sunday, March 17.
Head Over Heels club coaches Jessica Edwards and Alysha Valentine will join seven state qualifiers from the Osprey squad as they look to add hardware to their trophy case.
"This year, I have seen tremendous growth in the gymnastics team," Edwards said. "The girls have worked hard and added new skills to their routines. Team captains Polson High School sophomore Taylor Collinge and freshman Taleah Hernandez have really set the example by pursuing excellence in their ballet class, which has improved their performance in gymnastics, as well."
Heading to state competition for the Osprey will be Myranda Heiser, Taylor Collinge, Lauren Collinge, Chenoa Villegas, Olivia Valentine, Hailey Valentine and Avery Edwards.
Competing this season in the Platinum Division of the USAG Xcel Program, Taylor Collinge is looking for her first state all-around win after finishing second in the all-around with a cumulative score of 35.975 during the Mount Helena Open in February. She placed first in both the vault and beam with scores of 9.2 and 9.05.
Myranda Heiser, who is competing in the Gold Division, will join Collinge at state. Heiser earned a silver medal in the all-around during the Mismo Magical Meet in Missoula two weeks ago. She was also runner-up in the all-around during the Mount Helena Open. She won the vault with a score of 9.425, first in the floor with a score of 9.15 and placed second on the bars with a 9.075 score.
Olivia Valentine earned a state spot with an all-around fourth-place finish at the Mount Helena Open. Valentine scored a 9.2 on vault for a first-place finish in her age group.
The coaches said consistent performances throughout the season from Valentine, Edwards, Collinge and Villegas all translated into state appearances for the gymnasts. In their second season of competition, the Head Over Heels Osprey Gymnastics Team finished well. Edwards couldn't be more proud of her team.
"With two meets in Helena, one in Kalispell, Missoula and Stevensville, the Xcel league has grown in popularity," Edwards said. "We have encountered teams from Montana, Idaho, Washington and Alberta. The competition was heated this year, and medals were harder to come by with more gyms fielding teams."
According to Edwards, some Osprey team members may not be competing in the postseason, but each of her gymnasts had some significant successes throughout the season. Taleah Hernandez, a Platinum Division athlete, took the gold at the Mount Helena Open with a 9.2 score in the floor exercise. Graci Hammer scored a 36.075 all-around during the Mismo Magical Meet with three scores over 9.00, including a personal best 9.35 on the beam. Cyela Nault and Ciri Nice each managed to push past their injuries for solid performances throughout their season.
The Osprey will continue building the program next season with some new faces and returning gymnasts ready to take on the competition.
"I am looking forward to next year's season because several of the girls are already working on new skills for next year," Edwards said. "We have some young girls joining the team this summer, as well, so I think our third season promises to be our best yet."